Why A Women's College?
By creating a community for and about women, women's colleges empower independent students to effect both personal and collective change, at both a local and global scale.Though the world looks differently today than it did at Agnes Scott Colleges' founding more than 130 years ago, you can still find striking similarities in the gender inequalities that once existed, making the purpose for a women's-centered learning environment more necessary than ever.
A women's college allows for many benefits. Besides being academically challenging, small class sizes leave open the opportunity for individualized faculty attention and mentorship, while a welcoming, inclusive community of like-minded souls creates a network of lifelong friendships and support.
So, why should you attend a women's college, and more specifically, Agnes Scott College?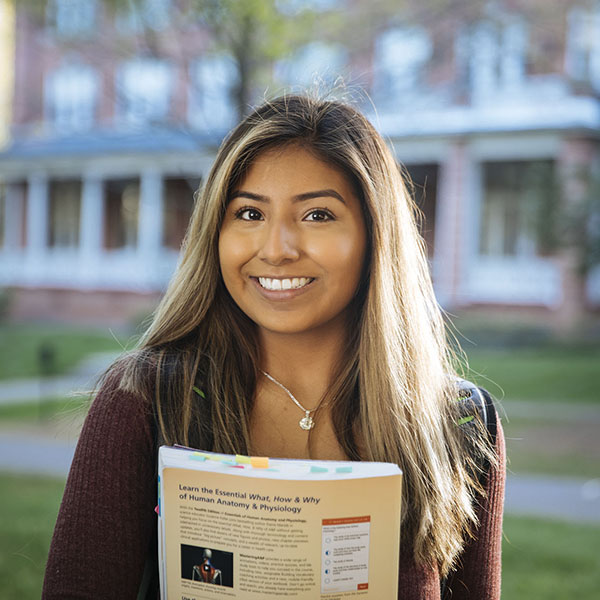 1. Because a women's college is uniquely academically rigorous.
"Before, I was afraid of change, of travel where there might be language barriers and different expectations. Now I have confidence in my ability... SUMMIT taught me how to pick out and focus on the qualities I best embody in my leadership style."
You will build confidence as a leader and presenter in classrooms where the loudest voices are usually female during lively discussions.From learning how to create a historiography in a class on the African Diaspora to gaining understanding of computational astrophysics in a Quantum Physics course, you'll encounter professors and peers as passionately curious as you are about intellectual breadth, depth and growth.
 MORE ON ACADEMICS
Choose from more than 30 majors/minors and 3 dual-degree options. The college also offers innovative graduate studies opportunities.
Our academic resources and support are designed to help you on your journey to academic success.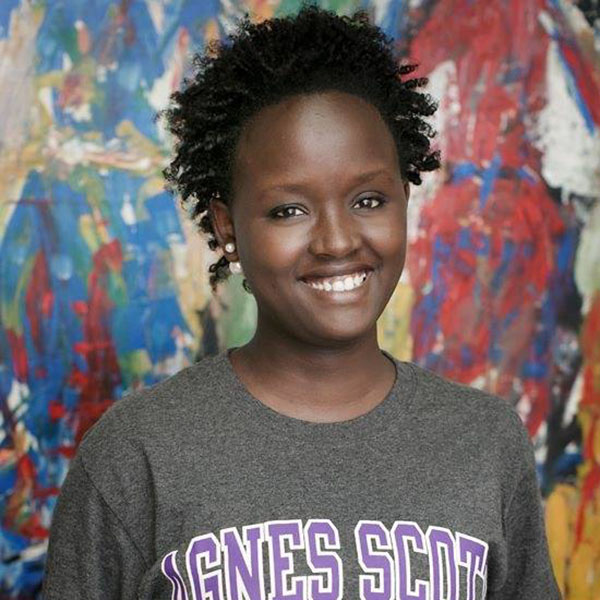 2. Because a women's college creates women of strength and conviction
"Being away from home and in the company of my fellow classmates—all smart, driven women wanting to make a mark on the world—gave me a new perspective on the place where I grew up (Rwanda). I observed even more gaps that needed to be filled if I wanted to inspire other young women to pursue careers they're passionate about and make a difference in their own communities."
Agnes Scott Scotties learn early on how to perfect their own individual brand of fearlessness that speaks to the passions that ignite them into action, creating the change they wish to see in the world. Leadership in a women's-centered environment looks a little differently when all of your peers, mentors and role models look like you, blazing their own trails into fields where a woman's perspective has been desperately needed.
It has been said that social justice activism is baked into a Scotties DNA. From various opportunities with our Center for Leadership, Engagement and Service, you will learn to dream wide, dare without fear and defy stereotypes, not only on a local scale but a global one. Our students, and women's college graduates in general, understand that empowering others to effect change begins with empowering oneself.
MORE ON SERVICE, ACTIVISM AND LEADERSHIP
Leadership at Agnes Scott begins with a strong sense of self. Our signature programs - Legacy, Catalyst Leaders Program, Impact Service Experience - will get you there.
Community and civic engagement allow Scotties to become knowledgeable of a variety of social issues within local and global contexts. More than 80 percent of undergraduate students are actively involved in community service.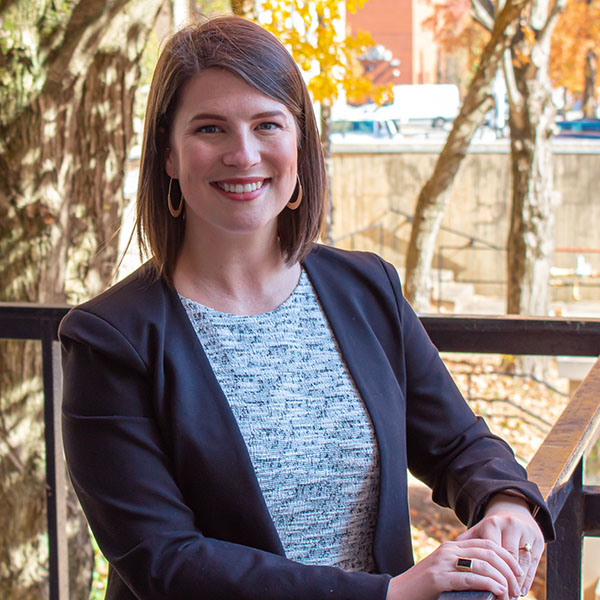 3. Because a women's college establishes community that becomes family.
" I had the most amazing community of friends, women who were equal parts intelligent, caring, and fun. I developed relationships with professors that I maintain today. I always felt like there was a community of people cheering me on."
Choose the social scene that fits you. From one of the most active Student Government Association's in the country, to Ignite Poetry Collective or Latinas Unidas, you'll easily find your own niche amidst our vibrant living-learning community (where our student leaders are all historically women!). Community isn't defined by geography at Agnes Scott, but by the remarkable, diverse individuals found within. Campus traditions aren't just something you'll read about in a college history book; these shared experiences will keep bringing you back to campus long after you've graduated.
MORE ON COMMUNITY
With more than 60 clubs and organizations on campus, finding your niche at Agnes Scott is simple. Not seeing something that fits you? Create your own!
From Black Cat Week and Sophomore Ring Ceremony to Pancake Jam and ringing the bell from the campus bell tower, our campus traditions form bonds of siblinghood that last a lifetime.
Agnes Scott's campus life scene is often described as a vibrant living-learning community. With over 80 percent of undergraduate Scotties living on campus, you'll be hard-pressed to find free time in your schedule outside of classes that can't be filled with interesting activities and events.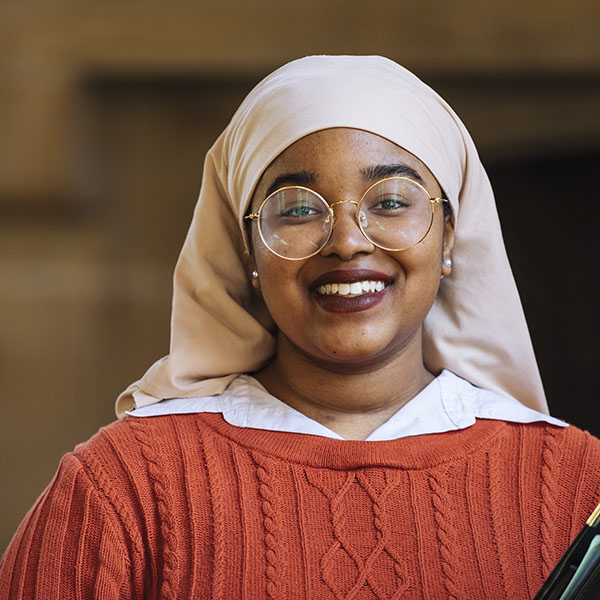 4. Because a women's college gives unique meaning to diversity.
"Every day, people are continuously trying to reshape what the college looks like, what mechanisms are in place to make sure students are comfortable in their own skin. The fact that Agnes Scott is a women's college and also supports different gender identities has really allowed me to see a full scope of what women's leadership looks like."
At Agnes Scott, 43 states and 28 countries are represented, with almost half of the undergraduate student body identifying as students of color. Despite the exclusivity that the term "women's college" might bring to mind, women's-centered environments of learning are typically socially progressive, welcoming and offering a safe space for various gender identities.
Women's college campuses are often at the forefront of global diversity and inclusion initiatives.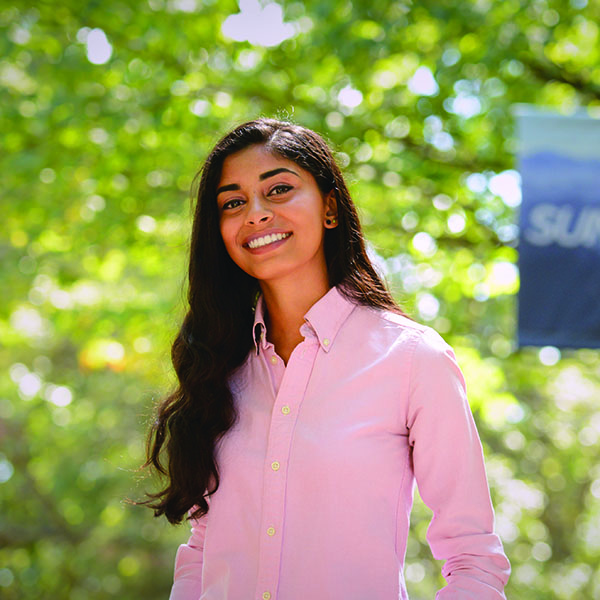 5. Because a women's college means you'll be forever prepared.
"Applying for the Marshall Scholarship was a really grueling process. I don't think I would have really been able to be a compelling applicant without the Agnes Scott experience that I have had. I had faculty advisors who really knew me, who worked with me... to give opportunities to succeed and lead."
According to a study from the Women's College Coalition, researchers have found that students who have attended women's colleges are more likely than their coeducational counterparts to graduate, to have high expectations of themselves, to attend graduate school, and to be successful in their adult lives.
Women's college students are also more likely to major in nontraditional fields or those most commonly dominated by men. Agnes Scott graduates women in STEM at higher rates than similar institutions (25 percent versus 10 percent). Recent data from the National Science Foundation (NSF) found such stats as "more Agnes Scott students go on to earn doctorates in Engineering fields than 83 percent of similar colleges, and Math and Computer Science fields than 78 percent of similar colleges."
MORE ON POST-GRADUATE SUCCESS
SUMMIT, our innovative approach to the liberal arts and sciences, is a four-year purpleprint (see what we did there?) for your journey to professional purpose. Intentionally embedded throughout our curriculum are specific career readiness preparation and networking experiences meant to lead you toward a lifetime of professional success.
We can talk about post-graduate success all day long - OR, we can show you. "Bell Ringers" at Agnes Scott defines graduating seniors who have received/accepted a job offer or been accepted to graduate school(s).
Agnes Scott gives you the roadmap, but longterm success is measured in the choices you make, your determination and grit. May the stories of our best, brightest and most courageous Scotties inspire your footsteps for the journey ahead!
Women's colleges may be small, but they are mighty. Agnes Scott alumnae have made history in their own ways – from Georgia's first female Rhodes Scholar to the first woman to be ordained a minister in the Presbyterian Church and the first woman to chair the Federal Commodity Futures Trading Commission – and their passions are reflected in the various avenues to success they've traveled in pursuit of their dreams.
Choosing to attend a women's college will forever set you apart in the crowd and connect you to a legacy of extraordinary women who unabashedly are making the world a better, more equitable place for all.