Get a glimpse of your boundless future.
Be a Scottie for a day and discover what sets our college experience apart. Experience our inclusive community, walk through our beautiful campus (in-person or virtually), chat with current students and learn more about SUMMIT, our signature approach to liberal arts learning.
No matter how you are able to visit us to learn more, you will receive an enthusiastic welcome and a genuine feel for what life is like at Agnes Scott and as a Scottie!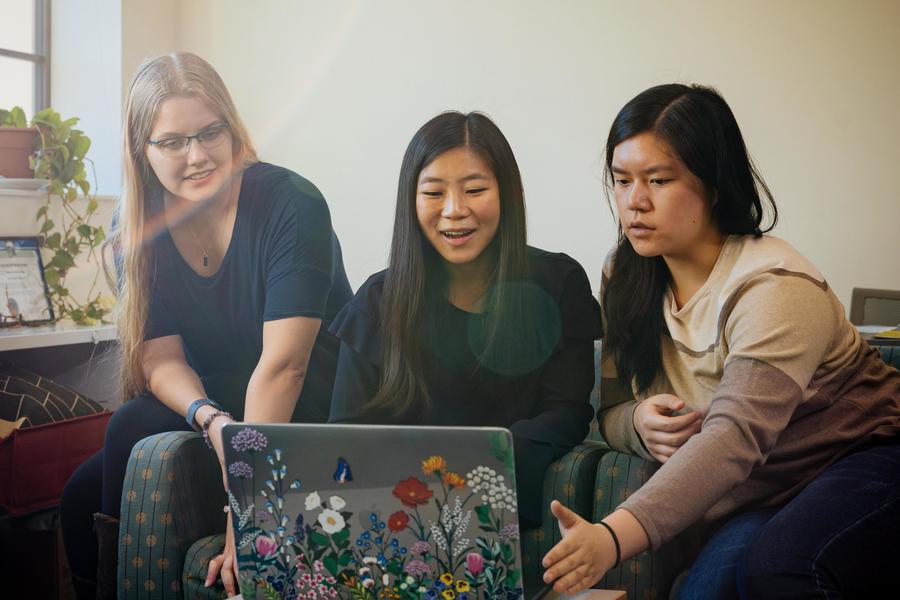 Virtual Campus Visit Experience
Experience firsthand the opportunities that Agnes Scott offers. The one-hour conversation includes an information session with an admission counselor, time to chat with a current Agnes Scott student about their Agnes Scott journey, and a chance to get all your questions answered about the admission and financial aid process.
Workshop Wednesdays
Are you ready for the college application process? Do you have questions about how to prepare yourself, your application and your family for next steps? Join us for one of our Workshop Wednesdays, virtual events where you will have the chance to walk through different pieces of the admission, financial aid and overall college search process with admission counselors and students who have been through the process before.
Great Scott Open House
(New Dates Coming November 2021) Great Scott is our half-day fall open house event that is perfect for high school students and transfer students who want an inside look at Agnes Scott. Meet key members of the Agnes Scott community, tour campus, learn more about SUMMIT, our innovative core experience, and hear from students and faculty about their experiences.
Just For Juniors
(Registration opens in April 2021) Just for Juniors is our annual half-day spring event set aside specifically for high school juniors and their families! You'll get a general overview of campus, hear from faculty and current Scotties, learn about our SUMMIT experience and tour campus.
Virtual Tour
Our interactive virtual campus tour gives you a 360°-degree view of our main buildings, ranging from academic halls to the student center to the heart of campus, the Quad. Take a sneak peek at the dorms, hear the bustle of the dining hall and play video interviews from current students and faculty—all from the comfort of home.
Informational Interviews
Our admission counselors are here to answer all of your questions- so take advantage! Sign up for a one-on-one informal conversation to get to know the admission counselor who will work with you throughout the process and to ask any questions you have.
Scottie Chats
The best way to get to know our campus community is to hear from one of our students. Want to chat with a current Scottie?
Faculty Chats
From Neuroscience and English Literature to Biology and Pre-law, a faculty chat will give you further insight into a particular major/minor at the college and what academic life is like. You'll have the opportunity to chat with particular faculty members about their areas, learn about research opportunities and hear alumnae success stories. New chats are added monthly.
Admission Experience Fellow Chats
We miss welcoming you to campus and interacting with you in our Elizabeth Kiss Welcome Center! Come join our Admission Fellow, Faith Rashidi-Yazd, for a Zoom chat to learn more about being a Scottie. As both a recent alumna of the Class of 2020 and now part of the Admission team, Faith will be able to share her experience as a student as well as first-hand knowledge of the admission process.
Self-Guided Campus Tour
Take in all that the Agnes Scott College campus has to offer at your own pace with our self-guided campus tour. Though official in-person daily campus tours led by current student ambassadors are currently suspended and campus offices closed to the public for the fall due to the pandemic and social distancing requirements, visitors are welcome to come walk the campus at their leisure between the hours of 8:30 a.m. and 4:30 p.m., Monday-Sunday. For your self-guided tour, please plan to park in the West Parking Facility parking deck located on South McDonough Street and follow the signs to the Welcome Center entrance located on the porch on the ground floor of the Rebekah Scott Hall building. Campus maps and self-guided tour maps can be found just inside the doors of the vestibule. See the online campus map to orient yourself. Masks are required on campus. Digital self-guided campus tour coming soon!
Special Events
From campus community events and special talks to co-hosted event opportunities, these special events have been curated especially for future Scotties and families, and will allow you to gain an understanding of Agnes Scott's place within the larger community.
Upcoming:
Check back later!