Get a glimpse of your boundless future.
Be a Scottie for a day and discover what sets our college experience apart. Experience our inclusive community, walk through our beautiful campus (in-person or virtually), chat with current students and learn more about SUMMIT, our signature approach to the liberal arts.
No matter how you are able to visit us to learn more, you will receive an enthusiastic welcome and a genuine feel for what life is like at Agnes Scott and as a Scottie!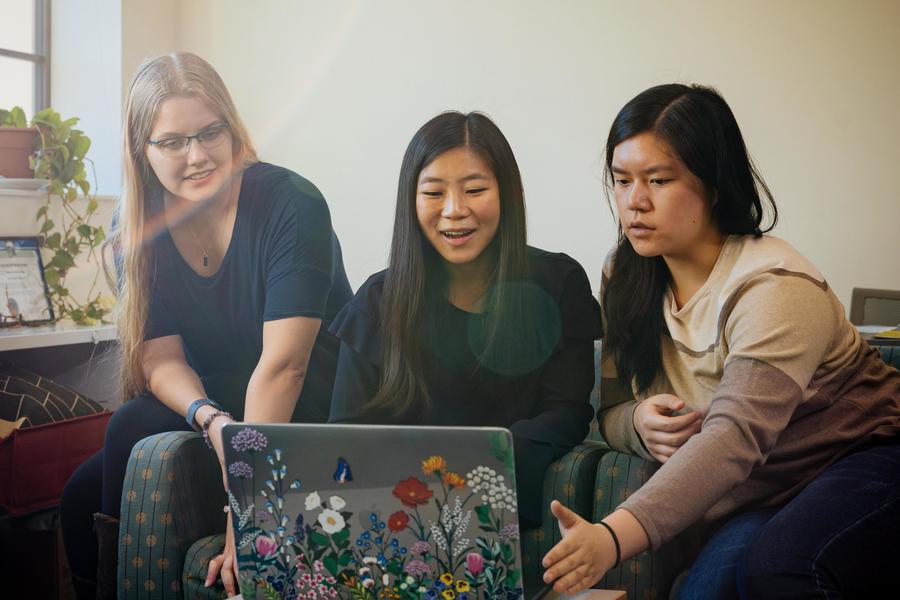 Virtual Visit Experiences
Our Virtual Visit Experiences are built for the first-time visitor who wants a good overview of life at Agnes Scott. The visit will cover our campus mission and culture, academics, our signature SUMMIT experience, student life and traditions, and admission and financial aid information. Visitors will have an information session with an admission counselor and time to chat with a current Agnes Scott student or recent alumna about their journey at Agnes Scott.
SCHEDULE YOUR VIRTUAL VISIT EXPERIENCE
In-Person Campus Tour
Looking to visit campus in person? Our in-person visits for students and their guests allow you to safely visit Agnes Scott's campus. Student-led campus tours are held at 10 a.m. and 1 p.m. Monday through Thursday during our summer months. Our admission counselors are available during summer office hours, Monday-Thursday, 8 a.m. to 5:15 p.m., to greet and chat with you on the front porch of our Welcome Center. Please note that Agnes Scott requires all persons to wear a face mask while on campus and complete a health screening at the Office of Admission prior to exploring campus.
Self-Guided Campus Tour
Can't visit during our daily tour times? We invite you to walk around campus at your leisure with our self-guided tour as your guide. If visiting during our office hours, admission counselors will be available to greet you and answer questions. Self-guided tours are available by request.
Enrolled Student Webinars
Officially enrolled in the Agnes Scott Class of 2025? Congratulations, we can't wait for you to join us on campus in August! However, between now and then there are a few steps you need to take to set yourself up for success in the fall. Join us as we answer your questions and take you step-by-step through your Enrolled Student Summer Checklist.
Are you a Scottie supporter or parent of a newly enrolled student? We know you are an important part of your student's high school to college transition, and we invite you to take part in our Enrolled Student Webinars. Take a look at what we have planned for you, and register here.
Hear from Current Scotties!
The best way to get to know our campus community is to hear from one of our students. We have multiple opportunities to talk and learn from our current students. Join us for one of our Student Meet & Greets to hear from multiple students about their Agnes Scott experience, or virtually chat with one of our student interns one-on-one to get all your questions answered!
Conversation with Your Admission Counselor
Our Admission counselors are here to answer all of your questions - so take advantage! Sign up for an informal one-on-one conversation where you can ask questions, share more about your specific circumstances and get to know the admisson counselor who will work with you throughout the process.
Virtual Tour
Our interactive virtual campus tour gives you a 360°-degree view of our main buildings, ranging from academic halls to the student center to the heart of campus, the Quad. Take a sneak peek at the dorms, see the bustle of the dining hall and play video interviews from current students and faculty—all from the comfort of home.
Great Scott Open House
(New Dates Coming Summer 2021) Great Scott is our half-day fall open house event that is perfect for high school students and transfer students who want an inside look at Agnes Scott. Meet key members of the Agnes Scott community, tour campus, learn more about SUMMIT, our innovative core experience, and hear from students and faculty about their experiences.
Just For Juniors
(New Dates Coming Spring 2022) Just for Juniors is our annual half-day spring event set aside specifically for high school juniors and their families! You'll get a general overview on Agnes Scott, hear from faculty and current Scotties, learn about our SUMMIT experience and take a campus tour.