Professional Success at Agnes Scott
At Agnes Scott, your professional success is largely defined by you and the path you choose for your future, but we don't expect you to do this alone. We use a successive set of experiences to teach you how to consider your strengths and interests, explore possibilities, and discover multiple pathways to success. Intentionally woven throughout our SUMMIT courses, the majors and minors, and the co-curriculum, our career readiness initiative will prepare you for success in your professional, civic and personal life beyond Agnes Scott.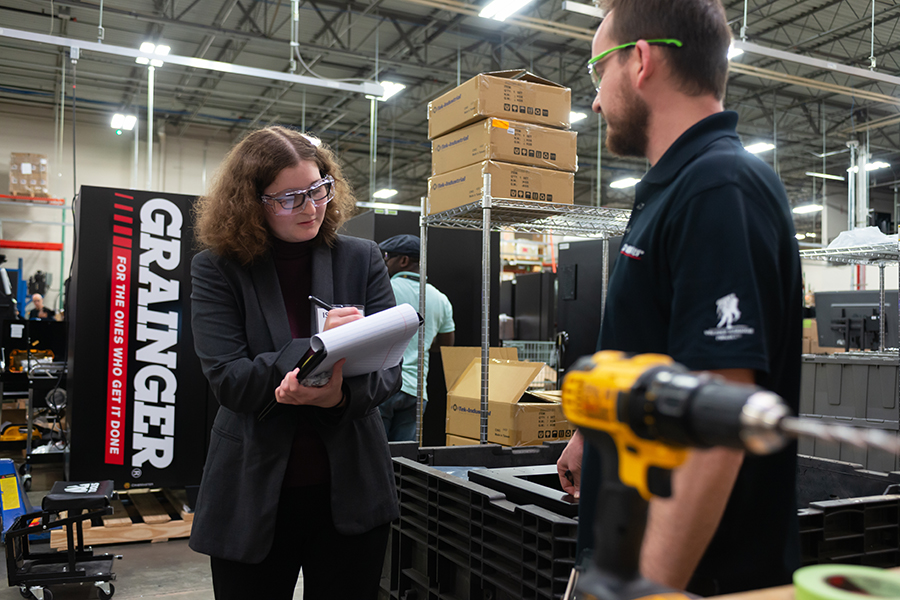 You are the author of your future, but our intentional approach is designed to drive your intellectual, social and professional growth and mobility. Simply put, through SUMMIT, our professional success initiative will do these things for you:
Build career agility through the process of encouraging your self-discovery and the exploration of possibilities
Open doors by connecting you to real-world learning via conversations with professionals, shadowing, internships and research
Connect you to faculty and professional mentors
Prepare you to be the kind of transformational, inclusive leader that employers seek today
Break down any barriers to professional success, particularly for those from under-represented groups
Further build upon the skills developed under liberal arts teachings that are attractive to employers, such as critical thinking, problem solving, communication, writing, speaking, research and teamwork, while folding in unique aspects of SUMMIT to include digital literacy, numeracy, leadership and global fluency.
Offer you early career support services that begin in your first year and extend beyond graduation to include Mentoring Circles, a small-group mentoring program for young alums.
HOW IT WORKS: DISCOVER. EXPLORE. CONNECT. ENGAGE.
Year One - Discovery begins as soon as you set foot on campus.
From your first-year SUMMIT leadership immersion experience, Legacy, to your SUMMIT Global Journeys immersion, you are developing a stronger sense of your strengths, skills and interests. You will tap into relationships with your board of advisors - faculty, SUMMIT advisors and career coaches - to discover and discuss possibilities that become the building blocks for your future.
Specific professional success initiatives embedded in the first year inspire exploration and early career success:
SUMMIT 110: Academic Foundations Lab, and SUMMIT 120: Career Exploration Launch Lab are mandatory, seven-week course sequences offered in the fall and spring of first year with a focus on academic success, professional growth and financial wellness. Beginning with the class of 2025, 100 percent of first-years will participate in SUMMIT 110 and 120.
SUM 110 lab, offered in fall of a student's first year, focuses on a successful intellectual transition to college and increases their understanding of the value of Agnes Scott's distinct liberal arts degree, which integrates global learning and leadership development with major and career exploration.
SUM 120 lab, offered in the spring of a student's first year, is introduced by Career Coaches and Career Peers who bust commonly-held career myths and teach first years how to use career research and assessment tools, budget and access funding for high-impact career experiences and build professional resumes.
Career networking begins with access to popular platforms like our Majors-to-Careers alumnae panels event and access to associations like Women in Technology, Public Relations Society of America and Georgia Bio. 
"SUM 110 allowed me to enjoy moving forward as a college student even in the midst of a pandemic. And in SUM 120, I loved learning about myself, personally and professionally. This course has opened me up to so many opportunities..."

Kaliyah '24, dual-degree engineering major, on her experience participating in the SUM 110 and 120 pilot
Year Two - Exploration beyond even who you thought you wanted to be.
Career coaches prepare you to explore all professional pathways with learning built into the first and second-year leadership experiences. Leading everywhere means you don't shy away from a challenge. You'll build the competency to achieve goals, facilitate change, and create a meaningful future for yourself and the world around you. We help you identify and grow the career competencies you need for success.
Specific professional success initiatives that continue the growth toward career competency in the second year include:
Sophomore Class Atlanta Leadership Experience (SCALE) - Designed to prepare all students to engage professionally and succeed "at work," SCALE is a weeklong externship that takes advantage of Agnes Scott's central location to Metro Atlanta. During SCALE, teams of students shadow and engage with professional leaders at community partners - either corporation, nonprofit or public service organizations in the Atlanta area - to see and learn from leadership and professionalism in action.
As students begin to declare a major, they are introduced to Career Communities, led by Career Coaches, and they select a community to join. Career Communities bring together students with alumnae and employers to open doors to real-world learning. Current Career Communities include: Health, Sustainability and Sciences Career Community; Nonprofit and Arts Career Community; Technology, Media, Business and Communication Career Community; and Government, Education and International Relations Career Community.
Agnes Advantage funding is available beginning the summer of sophomore year to support unpaid internship and research opportunities in every major, acting as a means to eliminate barriers to success, particularly for first-generation, Pell-eligible and other under-represented minorities. Over $150,000 in funding is provided to 50-75 students per year, which is a big contributor to the fact that over 50 percent of Scotties have completed an internship or conducted research by junior year.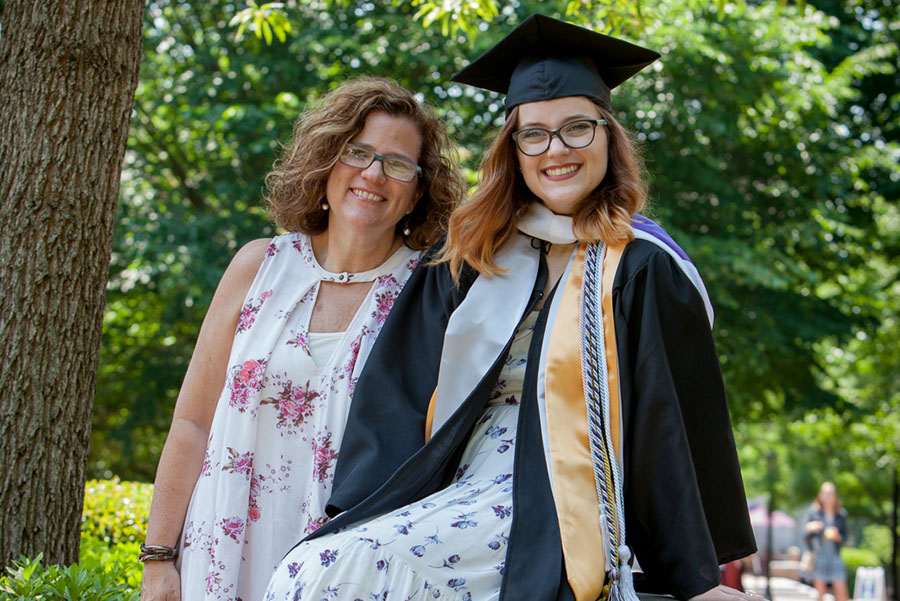 Year Three - Connections made, both physically and intellectually, spur growth and mobility.
Career Communities continue to open doors to internships, research and a diverse array of professional networks. Your junior year experiences connect the academic content of your major with SUMMIT's digital literacy goals and exposes you to emerging content and technologies shaping the world of work.
Specific professional success initiatives that help establish further connections:
Applied Career Experiences (ACEs) - offered during the college's annual Peak Week, these 1-credit, week-long courses include interdisciplinary content, relevant digital technology and professional connections, and are designed to bridge academic preparation and postgraduate success. Topics are informed by student interest and trends in evolving professional skill sets, among other things. Some example topics have included: "Raw Data to Insights," "Persuasive Images" and "How to Ask and Listen: Social Research Practices in Action."
Coordinated through the college's Office of Internship & Career Development, a wide variety of networking and learning opportunities are offered including campus career fairs, employer information sessions, professional development workshops and alumnae networking, such as through our vast SUMMIT Career Connect network of over 400 alumnae who volunteer for career panels, resume reviews, job shadowing and more.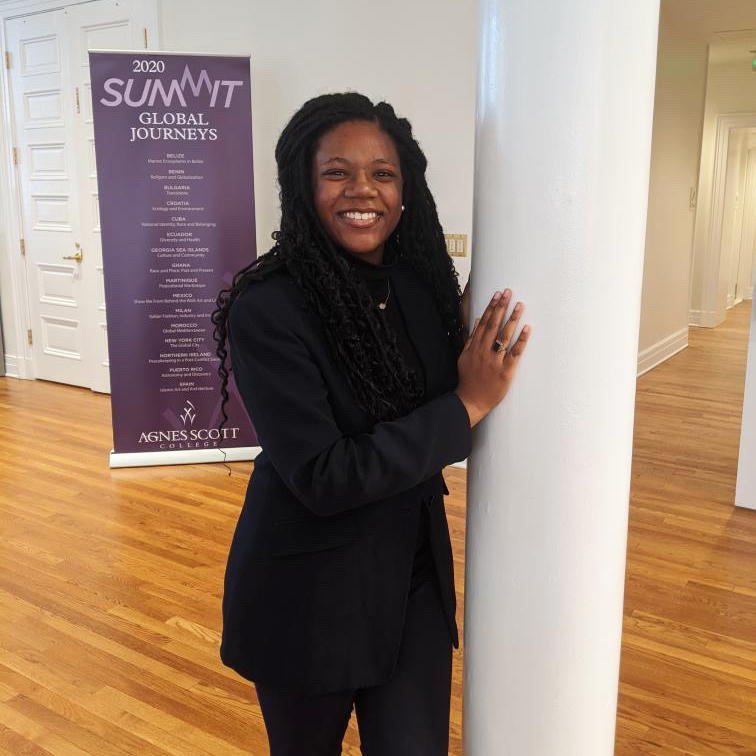 Career Communities in Action
"As a member of the Technology and Business Career Community, I met with Career Coach Jan Brottman to share an update on my summer internship experience at Federal Home Loan Bank of Atlanta. From then on, Jan's emails kept me in the loop; she proactively shared relevant information about fairs and interview prep, and cheered me on as I went through the process. I am now excited to have an offer with Infosys where I will work with an Agnes Scott alum." - Felicia Jacques '21, Business Management and Africana Studies double major
Learn More About Agnes Scott's Career Communities
Year Four - Engagement in career and life readiness preparation doesn't end with graduation.
"Ringing the Bell" to celebrate offers of professional success is just one piece of engaging your future. Our early career success program will bridge your transition from undergraduate study to your next step, whether it's graduate school, an international service corps opportunity or a job offer. Relationships with other alumnae and ongoing professional programming will allow you to fully and successfully engage in opportunities to elevate the world, no matter what continent you call home.