The Center for Sustainability works to provide a place for the Agnes Scott community to learn about the challenges of global climate change and to collaborate on innovative solutions for sustainability both on and off-campus.
Agnes Scott is a charter signatory of the American College & University Presidents' Climate Commitment (ACUPCC) and currently is a Climate Commitment green college. This means that since 2007 the college has been dedicated to reducing greenhouse gas emissions and providing members of the campus community with the tools they need to become advocates for sustainability. The college's work is guided by a Climate Action Plan with the goal of reaching carbon neutrality by 2037. As of the 2017-2018 academic year, the campus carbon footprint was reduced by 30 percent, with a target of 50 percent reduction by the end of the 2021-2022 school year.
The work of the Center would not be possible without the full support of both the Agnes Scott community and the partners in Decatur and across metro Atlanta. On campus, much of the sustainability work is shared with the Office of Facilities and the Center for Equity and Inclusion, as well as with faculty who teach courses related to sustainability. This shows the true intersectionality of sustainability, which is one of the reasons the Center brings together so many students, staff, and faculty on this liberal arts college campus.
Here are some of the current areas of focus for the Center for Sustainability:
Climate Resilience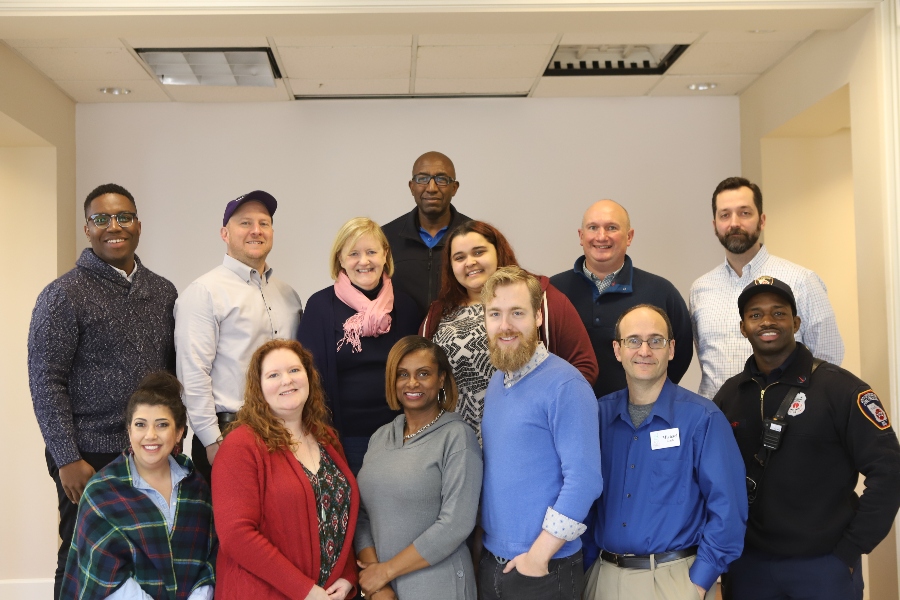 With the City of Decatur, Agnes Scott will complete a community Climate Resilience Plan in 2020. We have been recognized as one of the only colleges in the U.S. to have a plan that involves the surrounding community. Our team is committed to ensuring that all sustainability programs, including the Climate Resilience Plan, have equitable outcomes. Specific equitable outcomes anticipated with this plan include broad community input, emergency response programs and facilities that are accessible across all income levels in Decatur, and specific energy efficiency and renewable energy programs that benefit the underserved population of the college community and of Decatur.
Environmental Justice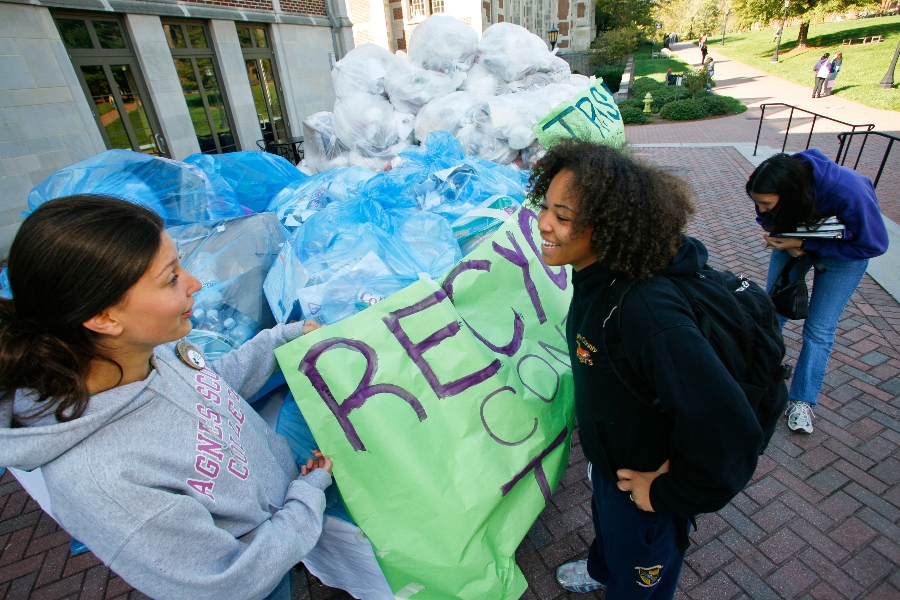 - Across campus, students, staff and faculty are leading efforts to ensure that communities of color and underserved communities have access to information about and assistance with solutions to environmental challenges, including climate change. From hosting a conference on Women in Environmental Justice to being an incubator for an energy-efficiency outreach program to working in energy-burdened neighborhoods, Agnes Scott is working to ensure that social justice is at the heart of every conversation about sustainability held on and off-campus.
Green College Building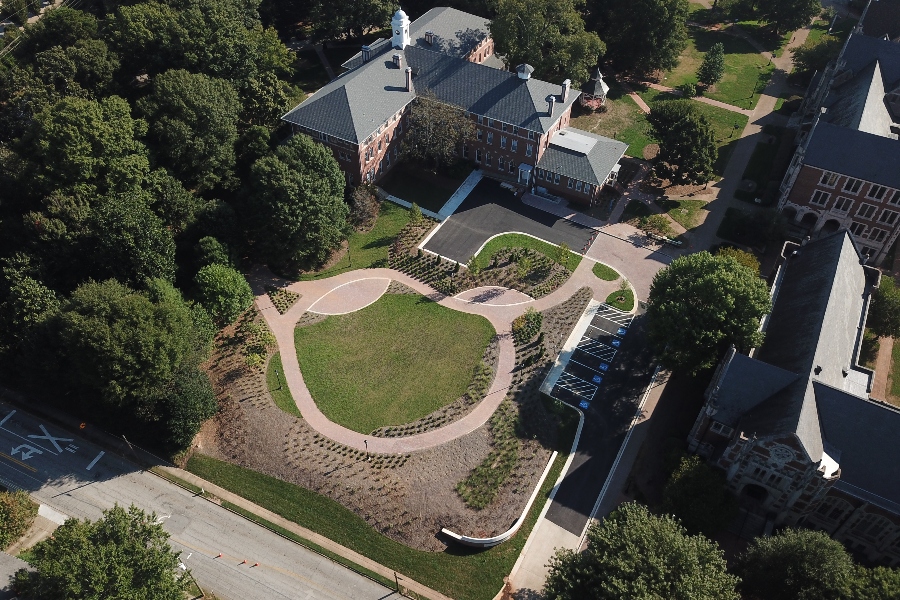 In 2008, the Agnes Scott Board of Trustees passed a resolution that all new construction and renovation on campus must meet the standards of LEED Silver or greater. This board guidance has been pivotal in the sustainability success of green building in renovation. As each major renovation is designed and implemented, all aspects of sustainability are carefully considered, with a special focus on energy and water efficiency. LEED, Leadership in Energy & Environmental Design, is the green building certification program managed by the U.S. Green Building Council that recognizes best-in-class building strategies and practices. Currently, the college has three LEED-certified buildings: Alumnae House – Silver, Campbell Hall - Gold 3 and Rebekah Hall - Platinum. The current campus building renovation project of Main Hall is expected to achieve LEED Silver or greater.
Waste Diversion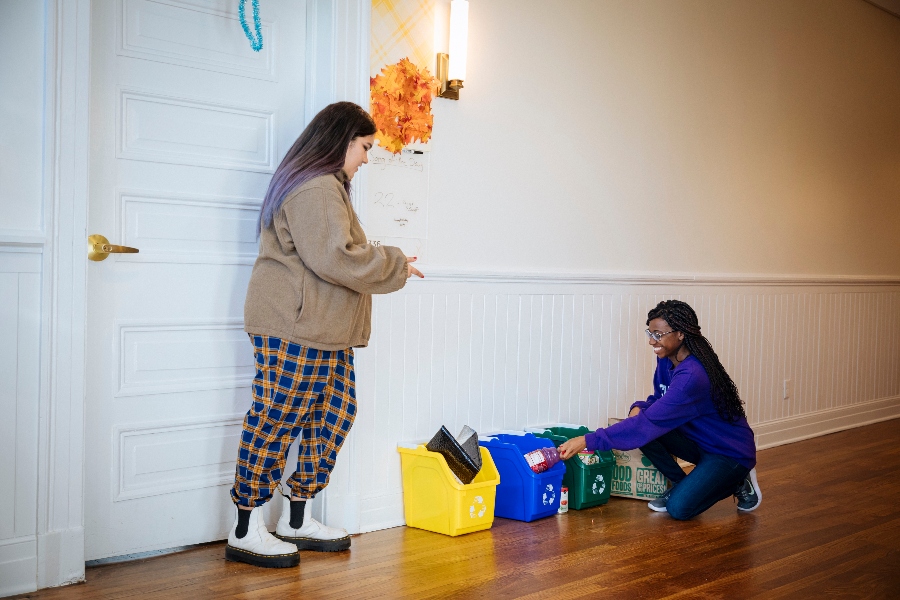 The college strives to attain zero waste (diverting 90 percent of the waste stream away from conventional landfills) by promoting waste reduction through reuse and repair as well as waste diversion through recycling and composting. One of the ways we work to reach this goal is through partnering with the Office of Facilities and the custodial staff to ensure the campus community is educated on what materials go where and why it is important. Another way we work to divert waste is through our partnership with the Center for Hard to Recycle Materials a local nonprofit that works to encourage reuse and divert thousands of pounds of hazardous waste, bulky trash and other hard-to-recycle items from metro-Atlanta landfills and water systems.
Student Involvement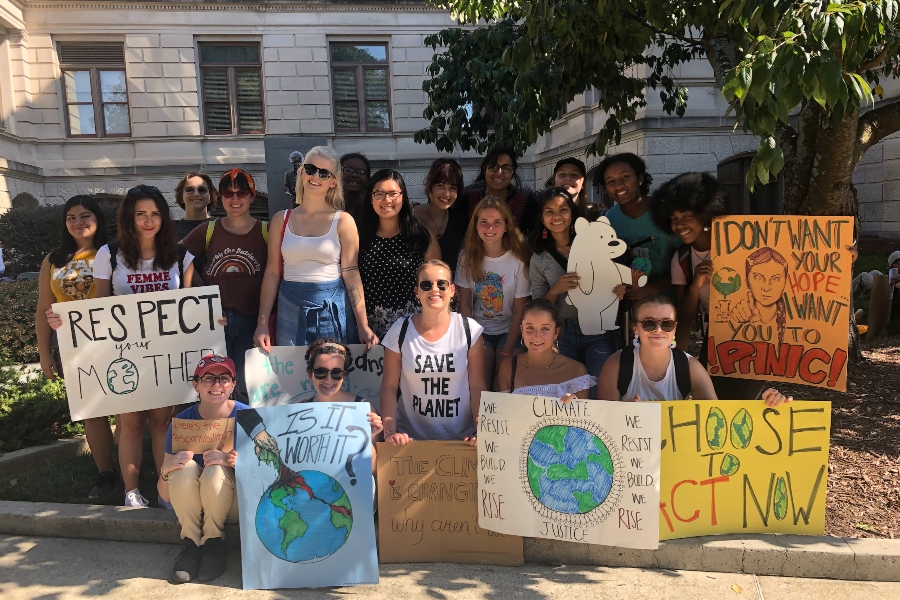 Student involvement is crucial to the success of the Center for Sustainability's mission. There are internships, work-study and volunteer opportunities for students in the Center with the student staff making up more than 50 percent of the Center staff in any given semester. Each student's specific work in the Center will depend on the interests and needs of the student, as well as the current needs of the college. A few examples of innovative sustainability projects that have come from student work are a campus sustainable food purchasing policy, designation as a Bee Campus USA, a green building video series using the LEED renovation of Rebekah Hall as a teaching tool and creation of a "healthy offices" program. In addition, annual greenhouse gas inventories have all been calculated by student interns.
Here are several other opportunities for student involvement offered by the Center:
Environmental Resident Program (ER) - This is a partnership program with the Center for Sustainability and Residence Life where students serve as ambassadors for sustainability within their residence halls and the campus community.  Environmental Residents promote environmentally conscious living, have meaningful conversations in their living spaces, and plan interactive programming.
Student Green Fee Fund -This partnership with the Student Government Association enables Agnes Scott students to address issues of sustainability with the support of both the Center for Sustainability and the Center for Student Involvement. A student-led group guides the decisions on funding a variety of sustainability initiatives on campus, including student organization sustainability events, sustainability equipment upgrades and small-scale sustainability research projects.