You always have a welcoming, safe, and confidential space at Counseling and Psychological Services (CAPS).
CAPS is where you can come to address anything you might be struggling with — homesickness, relationship conflicts, sexual identity and gender questions, racial and cultural issues, stress, and sadness. Our licensed and professionally trained staff offer all Scotties free counseling and psychiatric services.
Services Offered 
CAPS offers the following services free of charge to students:
Individual counseling, in partnership with TimelyCare

Group counseling

Student-led support groups

Psychiatry: medication evaluations and management 
Support in connecting with and referrals to off-campus mental health care
Counseling services follow a brief therapy model, offering a limited number of sessions each academic year. 
Individual Counseling through TimelyCare
CAPS is excited to expand services this year by partnering with TimelyCare to offer scheduled and on demand counseling services and support. Students can use the QR code to download the app or visit Timely Care to create an account.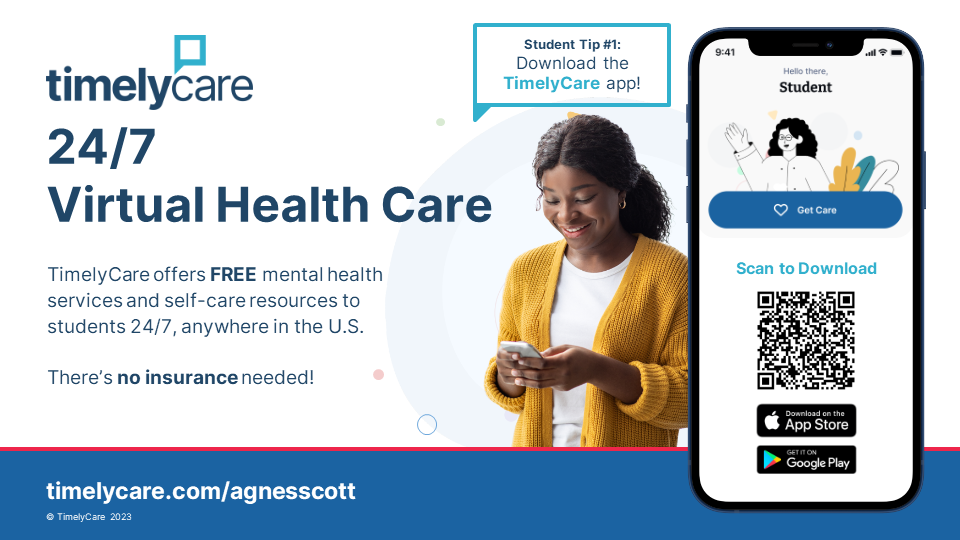 Schedule a Care Consultation
CAPS provides a 20-minute virtual care consultation for students who are interested in receiving personalized recommendations for continued care. 
This can include determining which route of services is the most appropriate level of care, assistance with connecting to Virtual Care Group, receiving referrals to providers in the community, or connecting to a counseling group offered by the CAPS team.
To schedule a care consultation, email CAPS@agnesscott.edu and include what type of support you are looking for and your availability. 
You will meet with a CAPS counselor virtually  to discuss your mental health history, what you need help with, and what next steps might be best for you. Appointments can range anywhere from 15- 30 minutes.
At the end of that appointment, you may schedule a day and time for brief therapy with a CAPS staff member. You may also get a community referral for a therapist with specialized skills for your needs and/or someone who can see you for longer-term treatment.
If you and your counselor have opted to continue with brief therapy at CAPS, together you will work to process and explore your presenting concerns. Ongoing sessions are typically every other week and are 45 to 50 minutes long.
If you and your counselor decide that you might be better suited for a community referral, then you will receive referrals and resources through a secure message from your counselor in your Medicat student portal within 24 to 48 hours of your meeting. As needed, your counselor will follow up with you via secure message to work through any barriers to connecting with care.
Counseling & Support Groups
Groups tend to vary each semester and academic year. We have offered counseling and student-led support groups around various topics including but not limited to time with therapy animals, stress relief, grief, and supporting specific student groups such as students of color, student athletes, and first generation college students.