You are a role model and a fearless leader, energized by your desire to better yourself and the world around you.
As an Agnes Scott alumna, you are a positive force for change and transformation. The strong liberal arts foundation you built here has given you the broad knowledge, global awareness and adaptability to realize professional success and personal fulfillment. We will always be here for support and guidance throughout your life. You are a Scottie forever.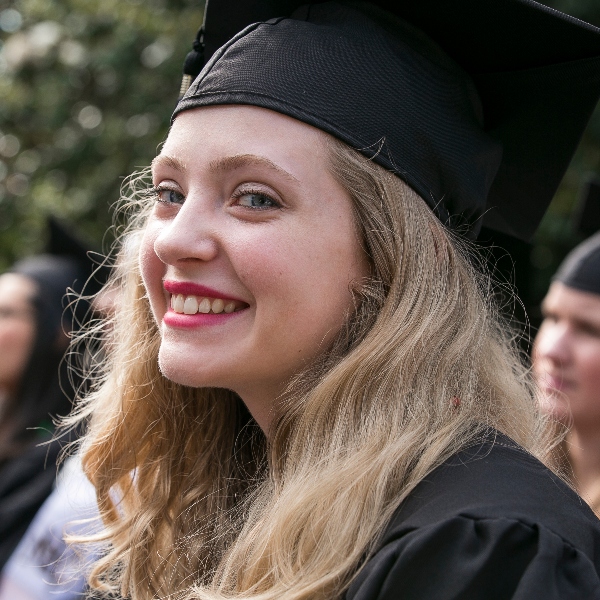 Resources for Recent Graduates
If you graduated within the last two years, you're eligible for all of the Office of Internship and Career Development programming available to current students, including graduate school application assistance.
Job Search
Agnes Scott College uses Handshake as its official resume and job posting service. Employers post jobs and internships exclusively to the college through Handshake. Search a wide variety of opportunities posted EXCLUSIVELY to Handshake. Handshake allows alumnae to:
Easily search and apply to full-time, part-time, internship and co-op job opportunities.
Access the national jobs board to search over 500,000 jobs.
Upload your resume for us to review and for employers to see.
Alumnae may create a personal Handshake account. Once created, Handshake will verify your alumna status.
Services Offered to Alumnae 
All alumnae have access to individual career coaching during certain times during the academic year. To make an appointment, call the Office of Internship and Career Development at 404.471.5454.
Alumnae are invited to attend Agnes Scott's co-sponsored career fairs and special events.
We would love for you to get involved with career development at the college! Please consider sharing your expertise by presenting a program, being a Career Observation Day sponsor or hiring an intern. Please contact our office at 404.471.5454 for more information.
Agnes Scott's alumnae directory, Alumnet, helps alumnae connect with each other. With Alumnet, you can choose how you'll be contacted and what profile information your want to share. Visit ScottieNet to activate your career profile to extend the power of your Agnes Scott network. Questions? Please contact us at alumnae@agnesscott.edu or 404-471-6323.
SUMMIT Career Connect
We invite all alumnae to sign up the Agnes Scott College SUMMIT Career Connect, our network of professionals who have agreed to help students build career literacy, hone professional skills and develop a professional network. We've designed Career Connect to be flexible, allowing you to opt-in and out as your schedules and interests change. We recruit for the following professional development activities:
Career panels
Informational Interviews with students
Resume review and mock interviews
Job shadowing and career treks
Interested in participating? Please click on the link below. Questions should be directed to Phoenicia Battle at pbattle@agnesscott.edu.