Campus Recreation
Get Your Scottie Game On!
Agnes Scott's Recreation and Intramural Programs offer a variety of activities to enhance fitness, encourage friendly competition and provide fun opportunities on and off-campus!
You can participate in a variety of fitness classes, sports clinics, recreational sports games and outings and any number of recreational sports or special events. All of our programs strive to develop Scotties by promoting values of sportsmanship, inclusion, respect and authenticity. 
Find the Campus Recreation office in the Alston Campus Center, room 106.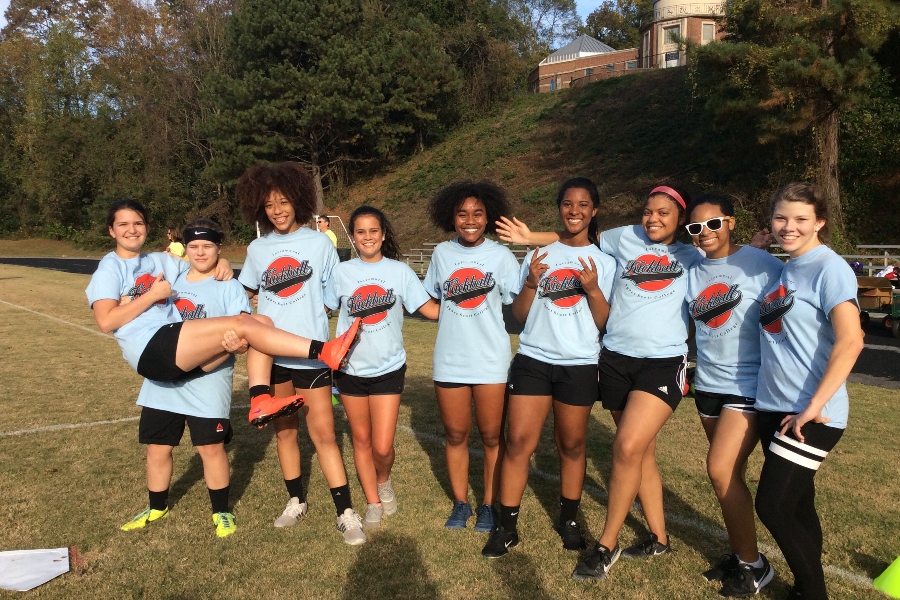 PLAY
Each year, Campus Recreation hosts a dodge ball tournament and kickball tournament. There's also the weeklong, student-led Humans vs. Zombies. All Scotties can join teams or ask to be assigned to a team. Other games include quidditch, badminton, pickleball and whiffle ball.
FITNESS
Campus Recreation offers a diverse selection of fitness classes. Each week we offer a variety of classes including yoga, Zumba, fitness dance, tai chi, swimming, biking, walking, capoeira and water aerobics. Join us to enhance your healthy lifestyle.  
LEARN
Our exceptional staff teaches archery, tennis, badminton, bike riding, frisbee, golf or swimming.  We also offer various clinics throughout the semester for Scotties and their friends from other colleges.
The Great Outdoors
Enjoy the open air with our outdoor recreation activities such as horseback riding, ice skating, river tubing, hiking and dragon boat races. We'll even provide transportation. For more information, please email recreation@agnesscott.edu.
Explore Atlanta

 
We encourage you to enjoy all that Atlanta has to offer. Our beautiful city hosts a wide array of events, including the Atlanta United soccer, Atlanta Dream basketball, Atlanta Hawks basketball, Georgia Tech football, Sky Zone, bowling and arcades.
Sports Clubs
Sports clubs at Agnes Scott include lacrosse, soccer, swing dancing, volleyball and archery. Join a sports club now to level up your game!
Recreational Equipment Check-Out
Scotties can check out recreational equipment free of charge. Our inventory includes bicycles, hammocks, Frisbees, badminton sets, jump ropes, hula-hoops, balls, kites, board games, card games and video games. Come by room 106 in the Alston Campus Center, or check out one of seven bikes of various sizes from the library.