Study Spaces and Carrels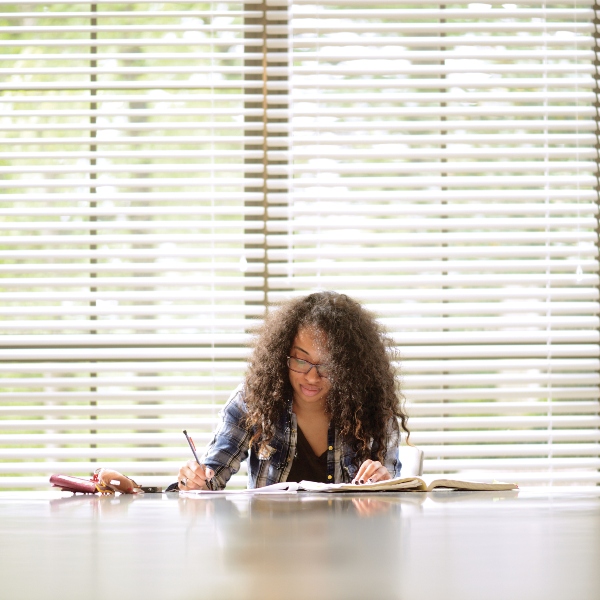 Study Spaces
Do not despair if you are not able to reserve one of the 41 carrels this semester. Twelve carrels located along the west side of the terrace on the First Floor of the library cannot be reserved and are open to all library users. You also may use a reserved carrel when the occupant is away – please just leave it tidy and as you found it, and vacate it if the student who has it reserved arrives.
Reserving Study and Media Rooms
There are three ground floor media and five group study rooms in McCain Library. To reserve one of the media or study rooms, visit the LibCal reservation page. Rooms can be reserved throughout the day and up to two weeks in advance with a minimum use of 30 minutes and maximum use of two hours per day, per student. Media rooms are also designated for one or more users, study rooms require two or more users.
The student making the reservation should come to the first floor Circulation Desk to retrieve and check out a key to the room they reserved. At the end of the reservation, or before, the key should be returned to the Circulation Desk for check in to eliminate overdue fees of $1.00 per hour.
Study Carrel Reservation
McCain Library has a limited number of study carrels that can be reserved by eligible students for use during an entire semester. The intended purpose is to allow students doing library-intensive work a place to work undisturbed and keep their research materials together. Study carrels located on the Main (first) floor of the library cannot be reserved and are open to all students at all times. Those carrels that are numbered on the Ground floor, Stack 2, and Floor/Stack 3 may be reserved.

Study carrel reservations are available to all current Agnes Scott students, however, seniors and individuals enrolled in Senior Seminar or Independent Study courses who are in line when study carrel reservations begin on the date and time listed below will have first choice of study carrels. It usually takes an hour to process all the seniors and individuals enrolled in Senior Seminar or Independent Study courses.  After that the carrels will open up to other students.  

Fall '23 Semester Study Carrels: First day undergradaute classes begin
Please visit the main circulation desk in the library to fill out a carrel request form. If you know which carrel you would like — each carrel is numbered — and it does not appear to be reserved already (reserved carrels will have signs), you can download the form and drop it by the library.

Students with reserved carrels are reminded to always check out any library materials you place on your carrel so that they will show up as "checked out" in WorldCat.  
Any student may sit at a reserved carrel but should leave it tidy and graciously relocate if the student with the reservation arrives.