Julia Thompson Smith Chapel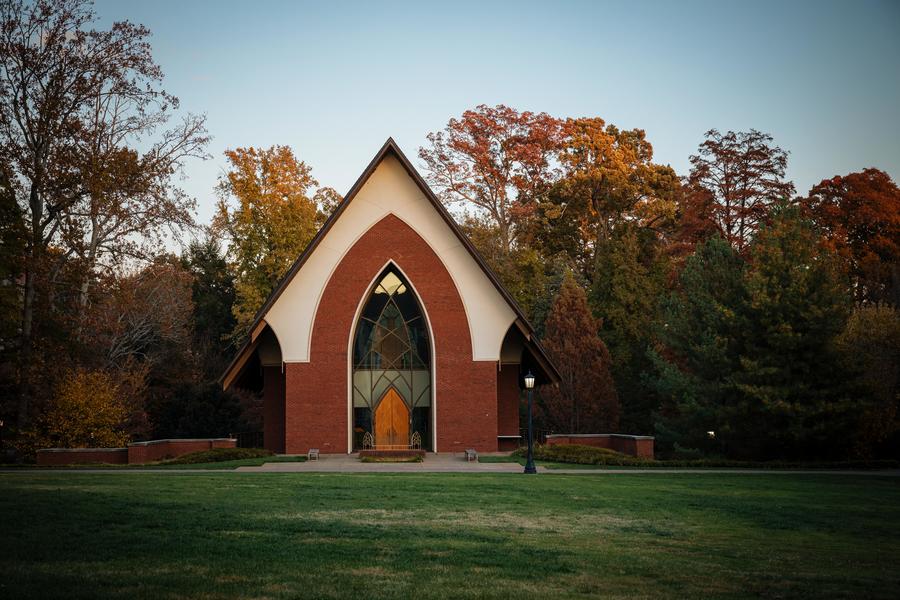 The Mission of the Chapel
The Julia Thompson Smith Chapel is the spiritual center of our campus. The chapel affirms the importance of faith in our community of higher learning, and it provides a space for prayer, contemplation and worship.
Accommodations and Location
Constructed in the area of the former Snodgrass Amphitheatre and May Day Dell, the chapel is surrounded by a beautifully landscaped garden that provides vistas and spaces for gathering and meditation. Footpaths lead to the chapel from the Science Quad, the Alston Campus Center, and the Bullock Science Center. 
Chapel Purpose
The chapel seats approximately 110 individuals and includes a multi-faith meeting area and meditation room. Primary uses include:
Worship services
Meditation and prayer
Small religious study groups
Campus events sponsored by student groups, faculty or staff
Occasional lectures and concerts
Weddings
Memorial services
Student groups, faculty, or staff may reserve chapel and garden space for events through EMS and the campus calendar. 
The chapel houses a Brombaugh Opus 31d organ — built in 1988 and originally placed in the Thatcher Chapel on the Agnes Scott campus. One of only six of its kind, the organ will only continue to increase in value following the retirement of John Brombaugh in 2005.
Donations
The Hal and John Smith Family Foundation provided the naming gift of $2 million for the chapel. The chapel is named in honor of the late Julia Thompson Smith '31, wife of the late Hal Smith, a generous donor and long-time chair of the college's board of trustees.
Trustee Jim Philips and his wife, Donna, provided the naming gift of $500,000 for the garden. The garden will be named in honor of Jim's parents, Davison and Kay Philips '43.
Through the generosity of many alumnae and friends, the college has raised more than $7 million for the construction and endowed maintenance fund for the Julia Thompson Smith Chapel. A plaque in the chapel will acknowledge all gifts.