Student Achievement
The mission of Agnes Scott College is to educate "women to think deeply, live honorably and engage the intellectual and social challenges of their times." The college carries out this mission by offering a liberal arts curriculum enhanced by SUMMIT, Agnes Scott's approach to education immersing students in global education and leadership development. SUMMIT provides students with the tools to think deeply and critically and to lead lives of purpose and consequence informed by that thinking. This liberal arts education provides graduates with greater flexibility with career options and enjoyment of lifelong learning.
In evaluating student success with respect to this mission, Agnes Scott considers persistence and graduation rates, participation rates in high-impact educational practices, and post-graduation activities of its alumnae.
Persistence and Degree Completion
Agnes Scott's ultimate goal is for all students to persist in their studies and graduate in a timely manner. In evaluating student success, Agnes Scott looks most carefully at student retention and graduation rates.
The college's senior leadership team set general criteria of success with a minimally acceptable threshold of performance to be the national average for four-year colleges and a target of the average for the college's peer institutions, currently 84 percent for first-year retention and 71 percent for graduation rate. Retention and graduation rates are reviewed and updated annually. Over the past five years, Agnes Scott has consistently exceeded the performance threshold and on average has met the target with regard to its performance compared with its peers.
First-to-Second Year Retention
While fluctuating from year to year, the rate at which first-year students return for their sophomore year has averaged 84 percent over the past five years, above the national average for both four-year private and public institutions. The college's retention rate is on par with its peers at 84 percent.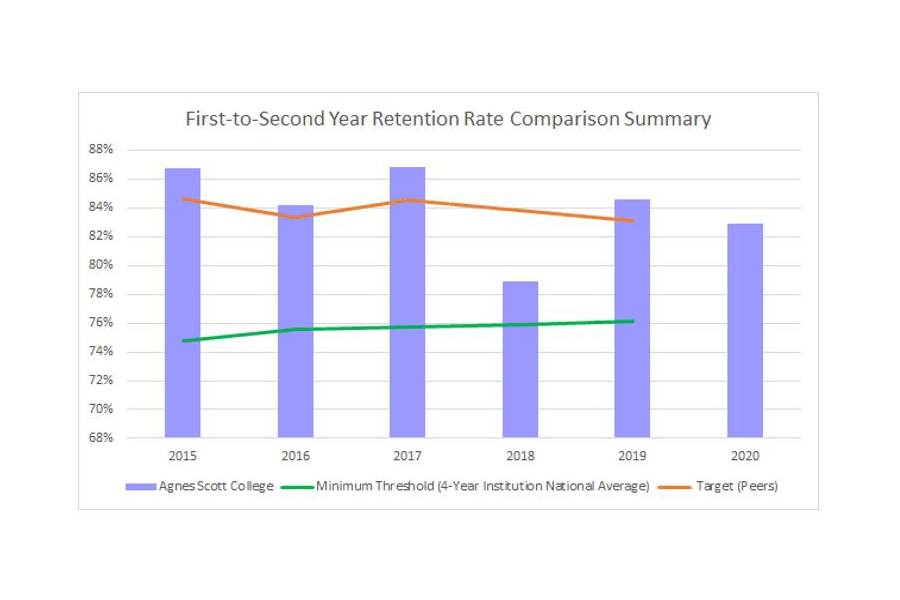 First-to-Second Year Retention Rate
Students Entering in:
2015
2016
2017
2018
2019
5-Year Average
Agnes Scott College
84%
87%
79%
85%
83%
84%
Peer Institutions
83%
85%
84%
83%
83%
84%
Graduates Completing in Four Years
Although there are good and valid reasons for a student to take extra time to graduate--for example, enrolling in a 3-2 dual-degree program--Agnes Scott undergraduates can expect to be able to enroll in all the courses they need to graduate within four years.
The percentage of graduates who completed their degree program in four years or less has averaged 93 percent over the past five years, well above the college's threshold, the national average for private nonprofit colleges of 65.1 percent.
Percentage of Graduating Students Completing in Four Years or Less:
| 2016 | 2017 | 2018 | 2019 | 2020 | 5-Year Average |
| --- | --- | --- | --- | --- | --- |
| 93% | 95% | 92% | 93% | 92% | 93% |
Six-year Graduation Rate
Agnes Scott's six-year graduation rate over the past five years averages 70 percent, above the threshold national averages of 67 and 59 percent for private and public four-year institutions, respectively. The college's average six-year graduation rate of 70 percent is in line with its peers' rate of 71 percent. For the last two graduating cohorts, Agnes Scott exceeded the average peer rate.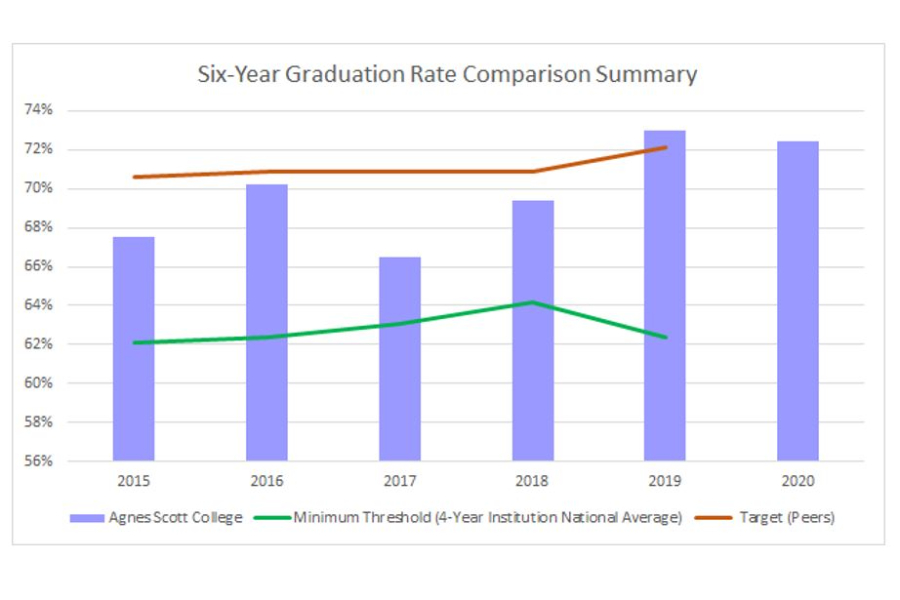 Six-Year Graduation Rate
Students Entering in:
2010
2011
2012
2013
2014
5-Year Average
Agnes Scott College
70%
67%
69%
73%
72%
70%
Private Nonprofit Four-Year Institutions
66%
67%
67%
67%
67%
67%
Participation in High-Impact Practices
High-impact learning experiences, such as study abroad, internships, and mentored research, are immersive experiences that link the classroom to a wider world and have been shown to enhance student success and completion. Agnes Scott places a high value on these practices.
Global Learning & Study Abroad
Agnes Scott fosters leaders with cross-cultural sensitivity and knowledge about world cultures. All first-year students engage in global immersion experiences with Agnes Scott College faculty during the spring semester as part of the SUMMIT Global Journeys course. Subsequent study-abroad experiences range from a few weeks to an academic year. Almost all recent graduating students have at least one global experience via Global Journeys or subsequent travel and nearly half study abroad later for academic credit.
Global Learning & Study Abroad Experiences by Graduation Year

| Experience | 2016 | 2017 | 2018 | 2019 | 2020 | Average |
| --- | --- | --- | --- | --- | --- | --- |
| Global Experiences (includes domestic and international Global Journeys) | | | | 89% | 91% | 90% |
| International Experiences (excludes domestic Global Journeys) | | | | 74% | 83% | 79% |
| Study Abroad (excludes Global Journeys) | 54% | 46% | 45% | 37% | 41% | 45% |
Internships
Internships provide a valuable supplement to classroom learning and provide opportunities for professional exploration. Internship are real world applications of both a student's major discipline as well as the broader liberal arts experience, allowing a student to extend and expand her area of study from the classroom to the outside world. More than two thirds of Agnes Scott graduates participate in at least one internship prior to graduation.
Internships by Graduation Year

| 2015 | 2016 | 2017 | 2018 | 2019* | 5-Year Average |
| --- | --- | --- | --- | --- | --- |
| 69% | 67% | 77% | 69% | 70% | 70% |
*most recent year available as graduating student survey has been postponed due to COVID-19
Mentored Research
Mentored research experiences are activities involving collaboration between a faculty mentor and a student. Complex, open-ended questions and problems are presented, requiring analytic, creative, systematic inquiry and cultivating an appreciation of how to create new knowledge. Frequently, students present their work at conferences or publish it in some form.
Between 2016 and 2020, over one third of all graduating students earned academic credit for participation in an independent research project with a faculty mentor.
Credit-Bearing Mentored Research/Creative Projects by Graduation Year

| 2016 | 2017 | 2018 | 2019 | 2020 | 5-Year Average |
| --- | --- | --- | --- | --- | --- |
| 34% | 36% | 35% | 33% | 44% | 36% |
Student and Alumnae Recognition and Success
As yet another measure of student achievement, Agnes Scott considers the number of students who receive prestigious competitive national and international awards. Since 2010, the college has had 25 Fulbright fellows, four Goldwater scholars, four Marshall scholars (only two other liberal arts colleges in the country have had four Marshall scholars in this period), two Truman scholars, and four Rhodes finalists.
A part of the college's mission is to foster "an environment in which women can develop high expectations for themselves as individuals, scholars, professionals, and citizens of the world." By the time of graduation, students should be well prepared for further study in graduate or professional school or to enter the world of work. According to the National Science Foundation's National Center for Science and Engineering Statistics Survey of Earned Doctorates, Agnes Scott is in the top 5 percent of institutions whose students earn PhDs across all subjects.
Over the past five years, results from the "Ringing the Bell" senior survey administered at the time of graduation have shown that approximately 20 percent typically enter graduate or professional school immediately following graduation. Nearly half of graduating students indicate they are seeking employment; of these, about half report having at least one job offer by graduation. Other students are undecided about their immediate plans or plan to continue their education at the undergraduate level, or volunteer, or travel.
Primary Activity at Graduation by Graduation Year
Activity
2015
2016
2017
2018
2019
Average
Employment %

45%
48%
54%
47%
52%
49%
Exmployment % with offer
39%
50%
56%
68%
45%
52%
Professional/Graduate School %
20%
26%
19%
18%
17%
20%
Professional/Graduate School
% with acceptance
90%
94%
93%
94%
91%
92%
Agnes Scott also queries alumnae regarding how well the college prepared them for their professional success and compares their responses to those at peer institutions using the Higher Education Data Sharing (HEDS) Consortium Alumni Survey. At five years post-graduation, alumnae report that their undergraduate experience "very much" prepared them for the following activities:
Activity
Agnes Scott College
Other Institutions
Graduate or professional school
62%
46%
Continued learning on my own or outside of a degree program
43%
34%
Current career
37%
33%
Interpersonal relationships and family living
40%
26%
Social and civic involvement
48%
24%
Responsibilities of post-undergraduate
life
16%
13%
Student Achievement in Graduate Programs
Agnes Scott College launched a small suite of programs at the graduate level in fall 2018. Our threshold for success is that 60 percent of students will complete a graduate certificate within two years after matriculation or a master's degree within four years. Our target is 80 percent. For the cohort entering fall 2018, 68 percent had completed a certificate or degree by May 2020, and 18 percent are still enrolled.