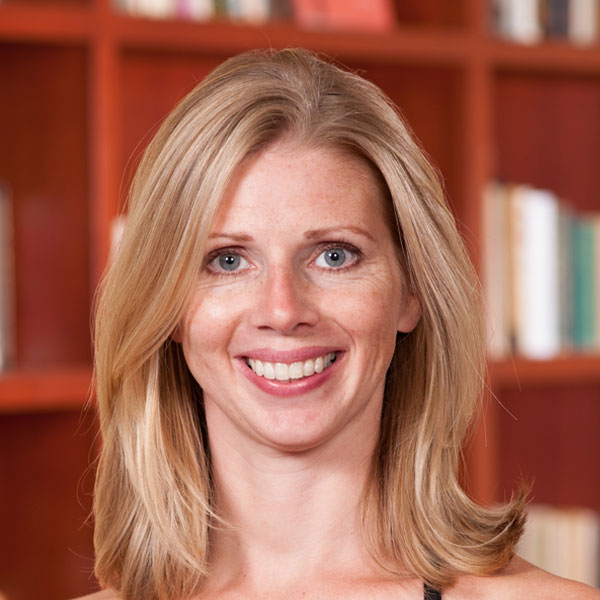 Bridget Roosa
Phone: 404.471.6940
Email: broosa@agnesscott.edu
Office Location: Dance Studio
Academic Degrees
B.F.A., Southern Methodist University
M.F.A., Florida State University
Teaching and Scholarly Interests
Bridget teaches ballet and modern techniques, choreography, Labanotation, performance and dance history. She is also the Artistic Director of Studio Dance Theatre, the student performing ensemble at Agnes Scott College and she curates, choreographs, and directs at least two mainstage productions each academic year.
Labanotation is a form of documenting dance using abstract symbols to describe what the body does to perform movement, used for the preservation of dance. For more information visit the Dance Notation Bureau. Bridget is a certified teacher through the Dance Notation Bureau and her stagings from Labanotation score include works choreographed by Bebe Miller, Lester Horton, Ruth St. Denis, Doris Humphrey, Marius Petipa, Clay Taliaferro, Susan Hadley, Helen Tamiris, Susan Hadley, and Charles Weidman. 
Bridget has published the following articles for the Dance Notation Bureau online publication:
"My Experience with Lester Horton's The Beloved and its Power to Promote Change" (2023) (link coming soon!)
"Staging from Score: A Professional Commitment to the Field" (2020)
Bridget has also served as the appointed tester of the following Labanotation scores:
Alraune (1975) choreographed by Pilobolus Dance Company members Alison Chase and Moses Pendelton
Sweet in the Morning (1992) choreographed by Leni Wylliams
In addition to choreographing and reconstructing Bridget is a performer and has worked with many choreographers in the Atlanta area and beyond. She has taught and performed both locally and abroad and a career highlight was performing with the José Limón Dance Company in the historically renowned work Missa Brevis. Bridget is also certified to teach Pure Barre Classic, Empower, Align and Reform techniques and teaches at Pure Barre Decatur.
Web Links