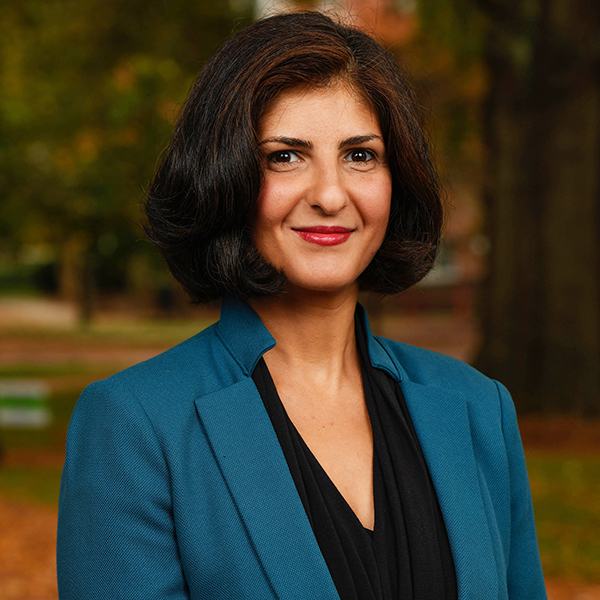 Mona Tajali
Phone: 404.471.6532
Email: mtajali@agnesscott.edu
Office Location: Buttrick 314
Academic Degrees
PhD: Concordia University, Canada

MA: University of Manchester, UK

BA: University of Florida, USA
Teaching and Scholarly Interests
Professor Tajali's research and teaching interests fall in the fields of Comparative Politics, Middle East Studies, and Women's Studies. Coming from an interdisciplinary background, she teaches courses on women and politics, Middle East politics and society, human rights, and international relations.
She is the author of Women's Political Representation in Iran and Turkey: Demanding a Seat at the Table (Edinburgh University Press 2022-open access), which investigates how religious and cultural norms, attitudes, institutional structures, and voter behavior affect the representation of women and quality of democracy in Muslim contexts, with a comparative focus on Iran and Turkey. Tajali has also been a long-term collaborator with the research wing of the transnational feminist solidarity network, Women Living Under Muslim Laws (WLUML) and, as of 2019, serves as a member of their executive board.
Her first book, Electoral Politics: Making Quotas Work for Women (WLUML 2011), co-authored with Homa Hoodfar, has been translated into Persian and Arabic, and is widely used as a training manual for those advocating for women's increased political representation across the Muslim world. She publishes her research findings in both academic and popular outlets, among them, the Middle East Journal, Politics & Gender, The Conversation, and The Washington Post.
Professional Activities