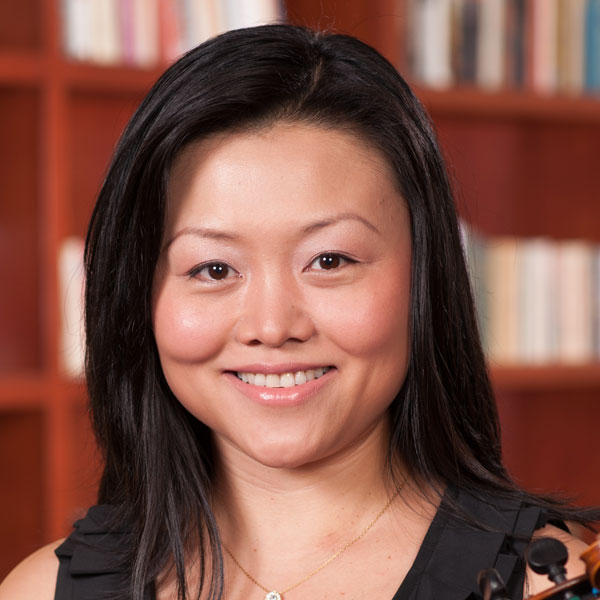 Qiao Chen Solomon
Phone: 404.471.6878
Email: qsolomon@agnesscott.edu
Office Location: Presser 204
Academic Degrees
B.A., Capital Normal University, Beijing, China
M.A., University of Limerick, Ireland
D.M.A., University of Georgia
Teaching and Scholarly Interests
Qiao is driven to advance the music of under-represented composers. In 2015, she premiered the commissioned Augusta Read Thomas' solo violin work "Capricious Toccata" during the composer's residency at Agnes Scott College. Under her baton, the Agnes Scott College Community Orchestra produced the Southeast premiere of Mary Watkins' opera "Dark River-The Fanny Lou Hammer Story".
Qiao has recorded various works by women composers, including Augusta Read Thomas' "Pulsar" and Rebecca Clark's "Sonata for Viola and Piano". These pieces were commissioned by the National Council of Women of the United States for a double CD collection of works by women composers. She also contributed to the album "Woman to Woman" recorded under the Studio Jeeb label, which features works for violin and piano composed by Clara Schumann, Amy Beach, and Ethel Smyth with the Eureka Duo.
Professional Activities
Qiao recently performed as a member of the Eurasia Trio in a program featuring women composers Clara Schumann, Fanny Mendelssohn-Hansel, and Jennifer Higdon at the following concert series: "Friends of the Music" at St. Benedict Episcopal Church in Smyrna, GA, "Casual Classics Concert" series in Jasper, GA, the "Lenten Recital Series" at the First Presbyterian Church in Marietta, GA, and the "Equinox Concert Series" at Agnes Scott College.
Web Links