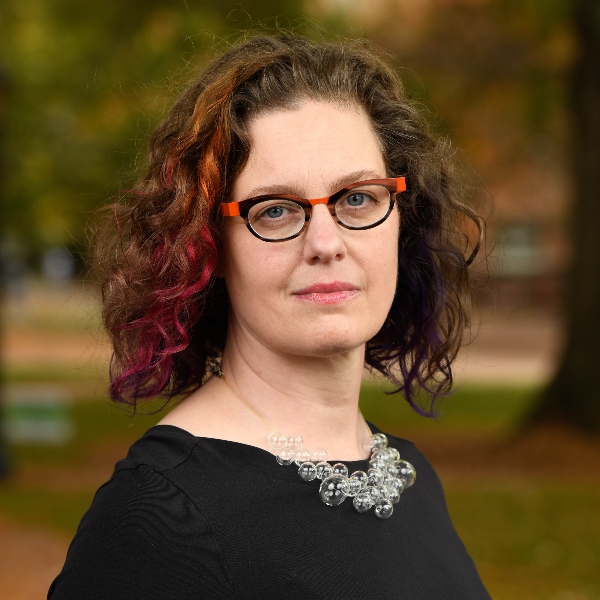 Katherine Smith
Phone: 404.471.5464
Email: kasmith@agnesscott.edu
Office Location: 104 Dana Fine Arts Building
Academic Degrees
B.A., University of Georgia

M.A., New York University

Ph.D., New York University
Teaching and Scholarly Interests
Prof. Smith teaches courses in modern and contemporary art and architecture, including Modern Art, Modern Architecture, Contemporary Art and Theory, History of Photography, and Monuments.
Her approach to teaching draws directly on the interdisciplinary nature of her research, which focuses on thinking across media.  Her scholarship addresses intersections in American art and architecture from the 1960s to the present, with emphases on sculpture and urbanism. 
Her book The Accidental Possibilities of the City: Claes Oldenburg's Urbanism in Postwar America has received support from The Graham Foundation for Advanced Studies in the Fine Arts.
Professional Activities
Selected Publications
Books
Book Chapters
"'Strange' Appearances: On Pop Art, Hamburgers, and Urbanists," in Denise Scott Brown In Other Eyes: Portraits of an Architect, editedby Frida Grahn (Zurich: BirkHäuser, 2022), 188-201.
"Pop Precedents and Contemporary Contexts," in Eyes That Saw, edited by Stanislaus von Moos and Martino Stierli (Zurich: Scheidegger & Spiess, 2020).
"Mobilizing Visions: Representing the American Landscape," in Relearning from Las Vegas, edited by Michael Golec and Aron Vinegar (Minneapolis: University of Minnesota Press, 2009), 97-128.
Articles
"The Public Positions of Claes Oldenburg's Objects in the 1960s," Public Art Dialogue 1, no. 1 (Spring 2011): 25-52. "
A Symbolic Situation: Claes Oldenburg and Robert Venturi at the Allen Memorial Art Museum, Oberlin College," Archives of American Art Journal 48, nos. 1-2 (Spring 2009): 46-55.
Reviews
Alex Katz: This Is Now, High Museum of Art, Atlanta, 2015. caa.reviews, July 7, 2016: http://www.caareviews.org/reviews/2762 - .V7kCZaWVeSk
Exhibitions of Claes Oldenburg and Coosje van Bruggen's sculptures and drawings at the Whitney Museum of American Art, New York and The Menil Collection, Houston (2009), SECAC Review 51, no. 5 (2010): 640-43.
Dictionary Entry
"Denise Scott Brown," in Dictionnaire des créatrices, edited by Antoinette Fouque, Béatrice Didier, and Mireille Calle-Gruber (Paris: Les Editions des Femmes, 2013) vol. 3, 3916-17.
Web Links