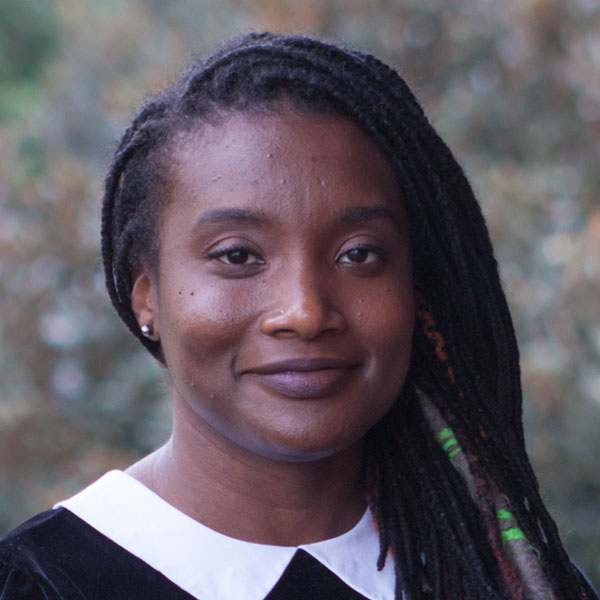 Stacey B. B. Dutton
Phone: 404.471.6528
Email: sdutton@agnesscott.edu
Office Location: Bullock Science Center 203E
Academic Degrees
B.S., University of Maryland Eastern Shore
Ph.D., Emory University
Teaching and Scholarly Interests
Professor Dutton is a behavioral neuroscientist whose research focuses on ion channels and their role in various behaviors. She has a specific interest in understanding the role of these important proteins in sexual behavior, epilepsy, and developing improved treatments for disorders that result from their aberrant functioning. Her research has been published in several peer-reviewed journals and has presented on national platforms, including the Annual Society for Neuroscience and the American Epilepsy Society conferences.
Professional Activities
Publications                                                                      
Moore G, Ngozi Z, Burgess C, Weber A, Dutton S. Exploration of Ion Channels in the Clitoris: a Review. Current Sexual Health Reports. 2019;11(3):167-75. 10.1007/s11930-019-00206-x.
Dutton S.B.B., Dutt K., Papale L.A., Helmers S., Goldin A.L., Escayg A. Early-life febrile seizures worsen adult phenotypes in Scn1a mutants. Exp Neurol. 2017 293:159-171. PMID: 28373025.
Lamar T., Vanoye C.G., Calhoun J., Wong J.C., Dutton S.B.B., Jorge B.S., Velinov M., Escayg A., Kearney J.A. SCN3A deficiency associated with increased seizure susceptibility. Neurobiol Dis. 2017 102:38-48. PMCID: 28235671.
Wong J.C., Dutton S.B.B., Collins S.D., Schachter S., Escayg A. Huperzine A provides robust and sustained protection against induced seizures in Scn1a mutant mice. Front Pharmacol. 2016 17;7:357. PMID: 27799911.
Gilchrist J., *Dutton S. B. B., Diaz-Bustamante M., McPherson A., Olivares N., Kalia J., Escayg A., Bossmans F. Na1.1 modulation by a novel triazole compound attenuates epileptic seizures in rodents. ACS Chem Biol. 2014 Mar 17. PMCID: PMC24635129.
Dutton S. B. B., Makinson C. D., Papale L. A., Shankar A., Balakrishnan B., Nakazawa K., Escayg A. Preferential inactivation of Scn1a in parvalbumin interneurons increases seizure susceptibility. Neurobiol Dis. 2012 25:49C:211 – 220. PMCID: PMC3740063.
Dutton S. B. B., Sawyer N. T., Kalume F., Borges K., Jumbo-Lucioni P., Catterall W. A., Escayg A. Protective Effect of the Ketogenic Diet in Scn1a mutant mice. Epilepsia. 2011 52(11):2050-6. PMCID: PMC3204183.
Martin M. S., Dutt, K., Papale, L., Dube, C., Dutton, S. B. B., deHaan, G., Shankar, A., Tufik, S., Meisler, M., Baram, T., Goldin, A., and Escayg, A.Altered function of the SCN1A voltage-gated sodium channel leads to GABAergic interneuron abnormalities. JBC. 2010, 26;285(13):9823-34. PMCID: PMC2843231.                                
Dutton S. B. B., Escayg, A. Genetic Influences on the Ketogenic Diet. Epilepsia. 2008, 49 Suppl 8:67-9. PMCID: PMC2653419.
Laing, K.J., Dutton, S. B. B., Hansen, J.D.Molecular and biochemical analysis of rainbow trout LCK suggests a conserved mechanism for T-cell signaling in gnathostomes. Mol Immunol. 2007, 44(10):2737-48.
Web Links
biology department website