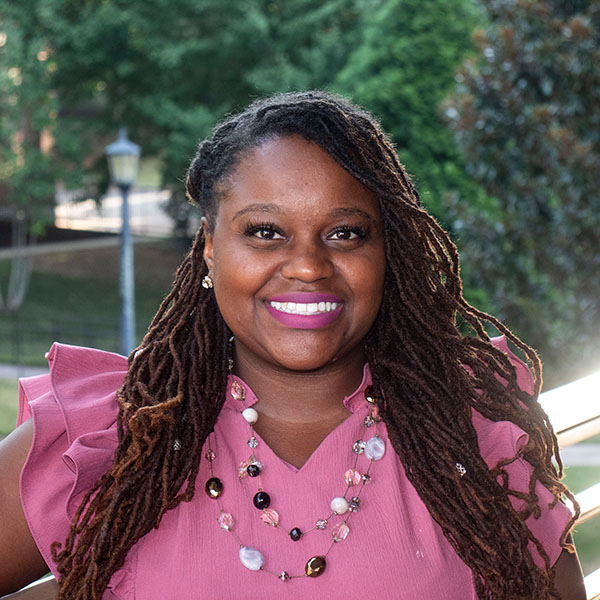 Nayati Shuler
Associate Director of Admission
Email: nshuler@agnesscott.edu
Counselor To: High School Students
Territories: Georgia 4 (Clayton, Fayette, Henry, and Rockdale counties), Arkansas, Indiana, Illinois, Louisiana, Missouri, Mississippi, and South Carolina
Hometown: New Castle, DE
Education: Bachelor of Arts in Communication Studies from Columbia College (SC); Master of Education in Higher Education Administration from Columbia College (SC)
I've been a Scottie since: August 2023
---
Name a favorite…
Atlanta activity: Going to Ponce City Market to enjoy the activities and eateries. I also love attending the events and festivals that take place at Centennial Olympic Park throughout the year - there's always something to do in Atlanta!
Decatur restaurant: Louisiana Bistreaux Seafood Kitchen
Agnes Scott tradition: The Bell Ringers tradition
Movie or book: My favorite movie is The Devil Wears Prada; book is Becoming by Michelle Obama
---
If you could have any superpower, what would it be and why? If I could have any superpower, I would choose the power to fly. From taking quick trips to see family and friends living in other cities and states, to simply spending less time in traffic and exploring new places, I'm sure I could find so many ways to make use of this superpower. 
Advice for prospective students: Always remember that the college search process is a personal journey: keep YOU at the center of your college search. Selecting a college is one of the most important decisions a student and their family and/or personal village will make. Therefore, I encourage students to be intentional about leaning into the college search and admissions process; do your research, ask questions that reflect the factors of the college experience that mean the most to you⁠, and put your best foot forward. At times, the college search process may seem overwhelming, but remember to have fun and be kind to yourself.⁠
---
Text me at 678.498.5262