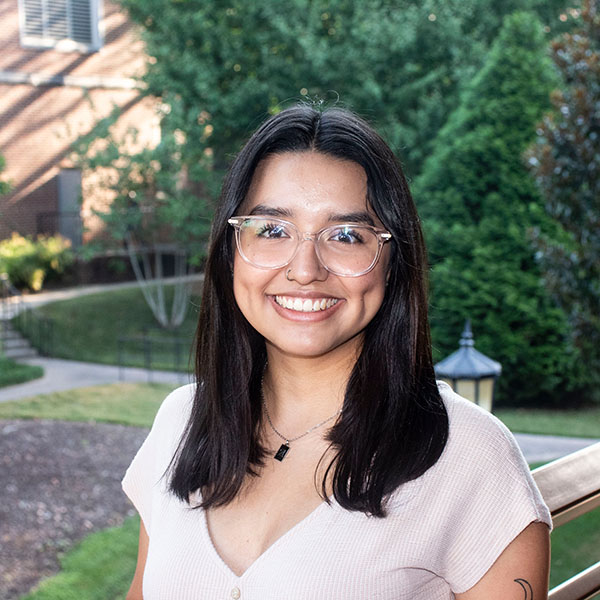 Jasmin Magaña Marquez
Admission Counselor
Email: jmaganamarquez@agnesscott.edu
Counselor To: International Students, High School Students
Territories: Georgia 8 (Northwest GA); Florida, Nevada, Oregon, Tennessee, Utah, Washington, and Wyoming; Puerto Rico, US Virgin Islands, and US Territories; and international students in North America, South America, Caribbean, Europe and South Asia
Hometown: Memphis, TN
Education: Bachelor of Arts in Sociology/Anthropology from Agnes Scott College
I've been a Scottie since: 2019 as a student, 2023 as a staff member
---
Name your favorite...
Atlanta activity: Walking around Decatur and grabbing coffee at Opo or B-Side is always very nice! I love going to Buford Highway as well; there are so many great food options and the atmosphere is amazing in that area. Concerts in Atlanta are also very fun!
Decatur restaurant: Coyote's Mexican Grill 
Agnes Scott tradition: Sophomore Ring Ceremony and Rushing the Quad!
Book or movie: The Alchemist by Paulo Coelho
---
If you could have any superpower, what would it be and why? I'm not sure if this would be considered a superpower, but it would be so cool if I could just speak any language I wanted to! If I met someone who spoke a different language, I wish I could have the power to automatically understand them and be able to engage in a conversation. Traveling would be easier and you would be able to connect with more people,.
Advice for prospective students: It's a very stressful time, but know that you are not the only one going through it! As overwhelmed as you may be feeling, it's also such an exciting time being able to explore the different schools and figure out what type of environment you see yourself in. For my fellow first-generation college students, you are creating an amazing path for those who come after you, and this is a lot of responsibility but also a great opportunity! You got this; make sure you ask for help when you need it, and go with your gut when making these huge decisions. Have fun in the process and take in all of the information that you are learning while you are at it. 
---
Text me at 678.466.6037