Off Campus
Students are encouraged to explore opportunities to do research off campus, especially during the summer months. Every year, we post opportunities for summer research, but student should also pursue this on their own and search for research projects that interest them.  Look for opportunities on the bulletin board by the labs!
Another great resource for summer research opportunities can be found at The Nucleus, an online resource for undergraduate in Physics & Astronomy.
Student research done in the past:
■     TERRY MELO (Astrophysics '19)
Summer Student Research Assistant at the NRAO site in Socorro, NM where the famous Very Large Array is local.  She worked for Dr. Adam Ginsburg to calculate the X-factor in star forming region W51. In order to obtain an idea of the hydrogen mass present and demonstrate the usage of proposed calculations, the CO-to-H2 factor was done using CO data from the Lacy Jet and H2 data from H77a observations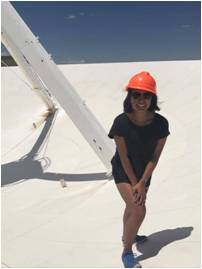 ■     EDUIGE KAYIGIRWA (Physics '20)
Worked at the Space Telescope Institute of Science in the mission engineering and science analysis which develops software tools for scientists.  She developed a plan tool for the PSF library and reference files which will be used to reduce coronagraphic data observed by the James Webb Space Telescope (JWST) after its launch.  Eduige got a chance to learn some data science skills and enjoy the excitement with which the institute and the astronomers' community await the launch of JWST and other new discoveries of the universe.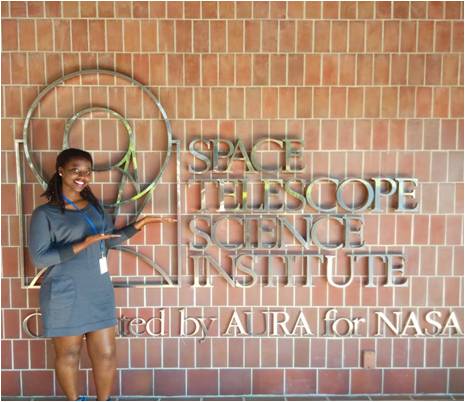 ■     RACHEL FARNSWORTH (Astrophysics '20)
Spent this summer managing contractor data at NASA's Marshall Space Flight Center.  She worked in the Space Launch System (SLS) Spacecraft Payload Integration and Evolution Office (SPIE).  She got to meet many NASA scientists and engineers, and they let her touch some stuff (with gloves on) that's going to space.