Career Opportunities for Mathematics Majors
From the class of 2017, we had one student pursue a Ph.D. in mathematics at Syracuse, one start a Ph.D. program in the intersection of mathematics and philosophy at Notre Dame, one start a Ph.D. in economics at Vanderbilt, several start Master's programs in various forms of data analytics at places like Columbia, Berkeley, and Fordham, one student started a Master's program in architecture, one student joined the Peace Corps and is applying for medical school, a couple of students started K-12 teaching positions, and some students are working at various companies. Several mathematics-economics majors in recent years have pursued advanced study in economics or finance at the University of Chicago, Yale University, the University of Georgia, and the University of Texas at Austin. Other recent majors are employed as teachers or work in a variety of industries including insurance, banking, computing, and investment management.
Careers of some graduates of Agnes Scott College with majors in mathematics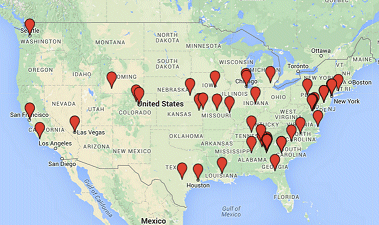 Google Map showing what some of our alumnae have done after graduation.
Sample List of careers.
Interview with Karen Shuman '95, Assistant Professor of Mathematics, Grinnell College, about her research in mathematics and her time at Agnes Scott College, from the 2002 President's Report, "Science as a Liberal Art" (pdf file).
Profile of Hilary Parton '05, special assistant to the deputy commissioner in the Department of Epidemiology at the New York City Department of Health and Mental Hygiene. Hilary earned her master's in public health with a focus on epidemiology at the Columbia University Mailman School of Public Health.
Career Information
Be An Actuary
Information about a career as an actuary, consistently rated as one of the best jobs in America.
The Mathematical Association of America has a website on Careers with a variety of information about popular career choices. Click the link on "Career Profiles" under the "Job Seeker" tab to find to find a collection of career essays in which women and men with mathematics backgrounds describe the ways in which their training in mathematics impacts upon their work.
Another MAA page on Students and Careers provides links to other sources of information about careers in mathematics.
The American Mathematical Society maintains a website on Career Information that has information about how mathematics can help you build your career and how to prepare for a career in mathematics.
The following brochures are available in the mathematics suite in Buttrick. Please feel free to look through any of these.
Career Information in the Mathematical Sciences: A Resource Guide, published by the Conference Board of the Mathematical Sciences.
Careers that Count: Opportunities in the Mathematical Sciences, published by the Association for Women in Mathematics. A series of profiles of women working in careers involving mathematics.
Careers for Numbers People is a website containing a guide for finding a career that might appeal to mathematics majors.