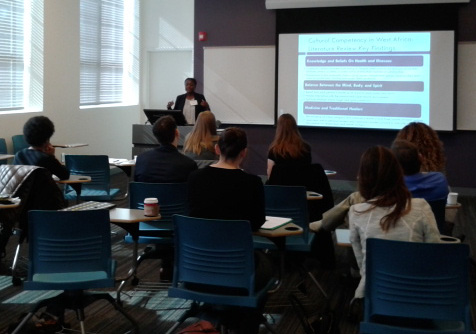 On November 18th, 2017, Agnes Scott College will host the fourth annual Atlanta Undergraduate Conference on Health and Society. All undergraduate students passionate about the connections between individual health and the health of societies are welcome to join us in this opportunity to share ideas from research, internships, and study abroad experiences focused on the health of populations. Students of public health, medical anthropology, natural sciences, and related disciplines welcome! The conference provides students with professional development opportunities to interact with peers interested in public health issues and to present work from on-campus research, internships, and study abroad experiences. Our keynote speaker, Dr. S. Elizabeth Ford, M.D., is a District Health Director and Chief Executive Officer of the DeKalb County Board of Health.
Students can choose to give a 12-minute oral presentation or show a poster of their work. Abstract submission and registration can be completed online, and the deadline for abstract submission will be October 20th, 2017. Students will be notified of their acceptance status by October 31st. 
The registration fee is $25 (includes coffee break and lunch).
Email publichealth@agnesscott.edu with questions.