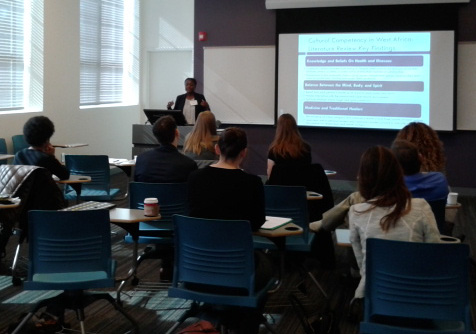 On November 3rd, 2018, Agnes Scott College will host the fifth annual Atlanta Undergraduate Conference on Health and Society. All undergraduate students passionate about the connections between individual health and the health of societies are welcome to join us in this opportunity to share ideas from research, internships, and study abroad experiences focused on the health of populations. Students of public health, medical anthropology, natural sciences, and related disciplines welcome! The conference provides students with professional development opportunities to interact with peers interested in public health issues and to present work from on-campus research, internships, and study abroad experiences.
Our keynote speaker Camara Jones, MD, MPH, PhD, focuses on the impacts of racism on the health and well-being in the U.S.   Dr. Jones is a faculty member at the Morehouse School of Medicine and Past President of the American Public Health Association. 
Students can choose to give a 12-minute oral presentation or show a poster of their work.  Classroom projects and library, experiential, or lab research are welcome.  Abstracts should be no more than 200 words (and are required for oral or poster presentations).  The deadline for abstract submission is October 15th, 2018. Students will be notified of their acceptance status by October 22nd. The registration fee is $25 (includes coffee break and lunch).
All conference events will be held in Campbell Hall at Agnes Scott College, and free parking is available in the West Parking facility (see directions and campus map).  Conference events will take place from 8:30-4:30 on November 3rd, and attendees will receive a detailed agenda in advance.
Complete your abstract submission and registration here!
Email publichealth@agnesscott.edu with questions.