Post-Baccalaureate Admission
The 2021 Post-Baccalaureate Pre-Medical Program application is now open to highly motivated individuals, regardless of gender, with successful undergraduate academic careers who want to pursue a degree in medical, dental, or veterinary school.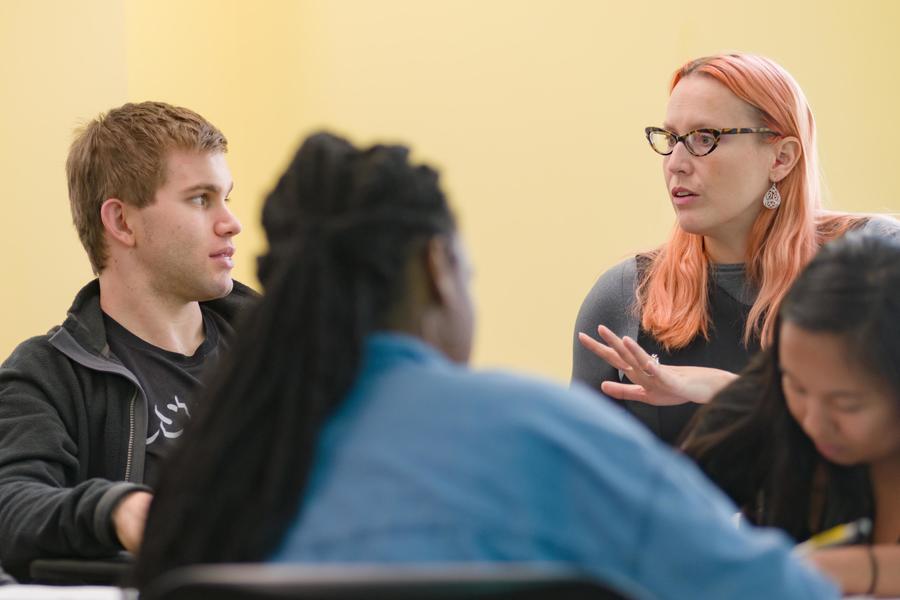 Application Requirements
Apply now to join our next cohort and start your pre-medical studies on June 1, 2021. We encourage applicants to submit early, since there are limited seats available within each incoming class. Submit the materials below along with an application through the PostbacCAS.
Online Application
Complete and submit the online application and application fee through the common application, PostbacCAS. All materials should be submitted directly into your application through PostbacCAS.
Transcripts
Official transcripts from all undergraduate and graduate institutions you have attended, with one showing completion of a 4-year undergraduate degree from a regionally accredited U.S. institution. 
A cumulative GPA of 3.5 is recommended. All undergraduate and graduate coursework, whether included in the GPA calculation from your degree-granting institution or not, will be considered when determining the cumulative GPA for admission to this program.
Transcripts from institutions outside of the U.S.
If transcripts are from a non-U.S. institution, an official Evaluation of Foreign Credentials is required along with copies of transcripts.
All applicants that attended a non-U.S. institution must be able to document their degree as being equivalent to that of a four-year bachelor's degree awarded by an accredited United States college or university. Applicants must have their foreign credentials evaluated by a member of the National Association of Credential Evaluation Services (naces.org). The evaluation must include: course by course description, documenting equivalence to a regionally accredited U.S. bachelor's degree (or the number of years toward completion and grade point average).
Letters of Recommendation
We require two academic or professional letters of recommendation. Academic recommendations are encouraged. If you have been out of school for 2+ years, professional recommendations are accepted.
Statement of Purpose
This is your chance to provide us a glimpse of who you are and why you want to be considered for this program. Submit a one-page, single-spaced (or two-page, double-spaced statement) that details your reason for pursuing this program at Agnes Scott. It is recommended that you address your health professions goals and include relevant educational, professional, or personal experiences and background that prepares you for success in this program.
Resume/CV
Submit a professional resume or curriculum vitae (CV) that reflects your experience. This resume can include full-time or part-time positions, internships, and/or volunteer experience. 
GRE Requirement
All applicants are required to submit valid Graduate Record Exam (GRE) general test scores, taken within the last five years. Order GRE scores from ETS to go directly to Agnes Scott using the school code 5002. Applicants with submitted PostBacCAS applications can apply for special consideration to waive the GRE requirement. Applicants with a strong cumulative GPA and volunteer/professional experience may be eligible for the waiver. Applications will only be considered for admission with either valid GRE scores or an approved GRE waiver.
PostbacCAS Application Fee
The PostbacCAS uses a two-tier processing fee structure. Visit their website for details.
Application Deadlines
Applications are accepted for summer 2021 admission. Below are the deadlines for Agnes Scott to receive complete application files**:
Priority Deadline: November 15
Regular Deadline: February 1
Final Deadline: March 15
Extended Deadline: April 15
**Admission decisions are made on a rolling basis after the priority deadline, so submit your application early. Review of an application will occur only after we receive the applicant's file and all of the required materials, so applicants are encouraged to submit their application and materials to the PostbacCAS approximately 2-4 weeks before a given deadline. Classes for the summer 2021 cohort begin June 1, 2021.
Additional Admission Requirements
Applicants should take time to review these important considerations before applying into our Post-Baccalaureate Pre-Medical program:
Applicants are required to be a U.S. citizen or permanent resident of the United States.
Students are only eligible to apply for fall enrollment if they have completed the lectures and labs for General Chemistry I and II, and Biology I within the past 5 years.
Applicants who have completed more than four of the courses within our curriculum, required for medical school admission, within the last five years will not be considered for this program. The college typically does not allow post-baccalaureate students to retake courses they took as undergraduates unless the courses were taken more than five years ago. The exceptions to this policy are the general chemistry I and II courses offered during summer school.
It is recommended that students who took general chemistry more than three years ago retake the courses in order to build a solid foundation for organic chemistry.
Students who have previously taken any course within our curriculum must submit an online Course Waiver Request Form and provide a copy of the course syllabus to substitute the class(es) or receive permission to opt-out. Approval is required to opt-out of a course. Courses older than five years from the first day of summer session I classes (June 1, 2021) within the cohort need to be retaken.
Admission decisions are made on a rolling basis, so early application submission is encouraged for this competitive program.
A review of an application will occur only after the file has been submitted and contains all of the required components; incomplete files will not be reviewed. We recommend applicants submit their materials and application to the PostBacCAS 2-4 weeks prior to our deadline.
Admitted students typically have two weeks from the date of the admission letter to accept the offer of admission and submit a $350 non-refundable enrollment deposit.
This program is not designed for students who are seeking to enhance their undergraduate science GPA and/or improve their MCAT scores. Individuals seeking to raise their undergraduate science GPA and/or improve their MCAT scores should refer to the American Association of Medical Colleges website to find an academic record enhancement program.
Students in this program attend class on a full-time basis to provide them with the rigorous academic study needed to prepare for medical school. Classes meet during the day, Monday - Friday.
Contact us at post-bacc@agnesscott.edu if you have any questions about the application process.