Admitted Student Event
Congratulations on being accepted to Agnes Scott College! You're on your way to becoming a part of a unique community of leaders and global change agents. Your next step will make everything official, and we want to make sure you have all of the information you need to help you see the benefits of an Agnes Scott education.
Though we regret that our annual admitted student events cannot be in person this spring due to local and state guidelines surrounding the pandemic, we are committed to ensuring you experience a virtual admitted student event like no other. During our admitted student events via Zoom, you'll find the chance to connect with other incoming first-year Scotties, learn what to expect during your first year, ask your most pressing questions and get assistance completing your next steps.
Virtual Scholars Admitted Student Event - February 28, 2020
We have created this special virtual event for our accomplished Scottie Scholars, just like you, and we hope you will join us from afar.  Students who virtually attend Scholars will have $1,000 added to their existing merit scholarship (found in your acceptance letter), renewable for up to four years of study. Registration for this event fills up quickly, so make sure you reserve your spot by the February 14 registration deadline! 
To register for the event, you will need your Agnes Scott Application Portal login information. These are the credentials you used to check the status of your application. If you have misplaced this information, please reach out to the Office of Admission by calling 404.471.6285.

GENERAL SCHEDULE
We know you like planning ahead, and so do we! Here is a general idea of what to expect for your Virtual Scholars:
TIME
TOPIC
12:30 p.m.

Pre-Event Information Session (Recommended if you haven't joined us for a virtual info session)

1-4 p.m.

Welcome to Virtual Scholars
Future & Current Scottie Connections
Mock Academic Classes with Agnes Scott Professors
Student Resource Fair

7 p.m.
Scottie Social
SCHOLARSHIP ELIGIBILITY
To be considered for the Presidential Scholarship, you must virtually attend Virtual Scholars AND participate in one of the following project options answering one of the prompts (see below).
We understand that students best represent themselves in different ways; therefore, both of the following project options are given equal weight in consideration for the Presidential Scholarship. Neither project option is given preference when the committee determines Presidential Scholarship recipients. Please think critically about how you best present yourself when choosing your project option. 
Project Options (chosen during registration):
(10 minutes with a panel of three campus community members via Zoom) 
Your interview will begin with four to five minutes for you to address one of the prompts listed below, and the panel of Agnes Scott community members will follow up with questions based on your response. This is designed to be an interactive and engaging discussion. There is no need to memorize, study or have notes on the topics.
(3-5 minutes) 
A short video addressing your answer to one of the prompts listed below. This could be a video of yourself, an animated piece, or any other creative way you choose to address the topic. 
*NOTE: Regardless of your project selection, you must attend the virtual event to be eligible for the $1,000 increase to your merit scholarship and for the Presidential Scholarship.
Prompts (Select one or the other. You do not need to let us know which prompt you selected beforehand):
What is the global issue you are most passionate about? How do you see yourself interacting with or tackling this issue while attending Agnes Scott?
What do you consider to be your style of leadership? What do you think are your leadership strengths? What do you want to improve upon while at Agnes Scott?
DEADLINES & SUBMISSION DIRECTIONS
Now that you have chosen the project option that best suits you, it's time to understand your next steps. See deadlines and instructions below:
Event registration

deadline is

Sunday, February 14

. Following registration closure, an email will be sent out for interview sign ups and other program specifics, so make sure your email is correct on the registration form!

Video Essay

due by midnight Monday, February 22

- If you select video essay as your option, you must upload your video essay to your Agnes Scott Application Portal by this deadline. On the Application Portal, you will see a link to "Virtual Scholars Event Submission." This is where you can upload your video. You may either upload the video from your computer in an accepted file format (.avi, .flv, .m1v, .m2v, .m4v, .mkv, .mov, .mpeg, .mpg, .mp4, .webm, or .wmv) OR upload a link to your video on another site (YouTube, Vimeo, etc.).

Virtual Interviews - Interviews will take place virtually on Zoom from

Monday, February 22 through Saturday, February 27

, the week prior to our Virtual Scholars event. Sign ups for individual time slots will be sent after event registration has closed.
GUEST PARTICIPATION
Parents, siblings, and other guests of students are welcome and encouraged to participate in our Virtual Scholars event! During this event, while students are in their Future & Current Scottie Connections and Academic Mock Class, there will be specific programming, both live and recorded, for guests to learn more about our Agnes Scott community. Please note that a second device will be needed in order to view this content dedicated to parents and guests.
Below is a general guest schedule for our Virtual Scholars:
TIME
TOPIC

12:30 p.m.

Pre-Event Information Session (Recommended if you haven't joined us for a virtual info session)

1-4 p.m.

Welcome to Virtual Scholars
Supporting Your Student & Next Steps
Student Resource Fair
VIRTUAL PLATFORM INFORMATION
We will be using ZOOM to connect with you during Virtual Scholars. There are a few things to know to best take advantage of this technology. 
We recommend participating in the LIVE event using a laptop or desktop as that will give you the best viewing and interaction capabilities. You can download the free desktop version of ZOOM at

zoom.us

and create a free account. 

If viewing from a mobile device you will need to download the free ZOOM Cloud Meeting application from your device's app store. The app is free but standard download rates apply. 

Being connected to Wi-Fi will allow for the best consistency in video quality. 

For the parts of the program that are open to both students and their guests, we recommend tuning in together.
NEXT STEPS
Register for Virtual Scholars, including selecting your Presidential Scholarship project option,

by Sunday, February 14

.

Check your email inbox for your Virtual Scholars confirmation email.

You will receive an email to select your interview time, choose your academic mock class, opt in to our pre-event info session for first time visitors, and select your Scottie Social activity

after registration closes.

These individualized options must be submitted by

Friday, February 19

. If you do not select your options by this date, we will place you in options that are available.

If you selected a video essay as your Presidential Scholarship project, submit your project

by Monday, February 22

.

If you selected a virtual interview as your Presidential Scholarship project, attend your virtual interview during the time you selected

during the week of Monday, February 22 through Saturday, February 27

.

Attend our Virtual Scholars event

on Sunday, February 28

!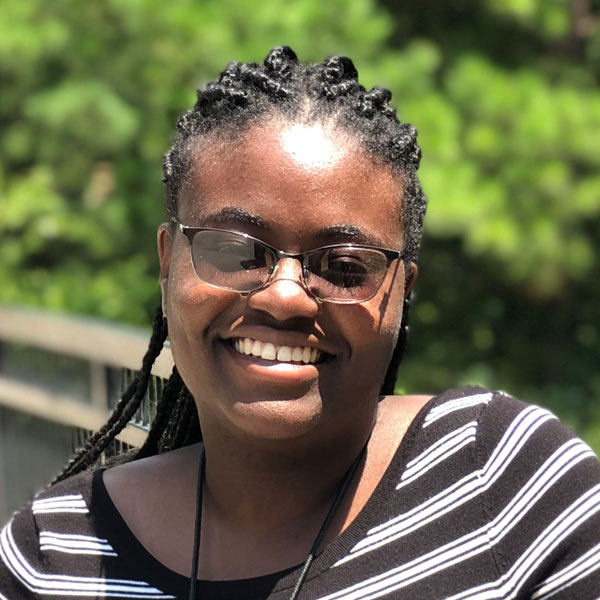 A Place that Stimulates Creativity, Innovation and Fellowship
"It is rare that you can gather with a diverse group of scholars in an environment that stimulates creativity, innovation, and fellowship. One of the most significant moments I still carry with me from my Scholars experience is a sense of siblinghood and solidarity with students who were both similar and different than myself. Within this experience, I learned the importance of embracing and respecting human difference, all while becoming culturally aware of intersecting identities."