Live, learn, and thrive in an environment specifically designed to support you as you navigate your collegiate journey as a STEM major. 
Join a special living and learning community designed to help and support students interested in pursuing a career in the science, technology, engineering or mathematics (STEM) fields. The SUMMIT STEM scholars program offers a unique experience for students that intend to declare a major in astrophysics, biology, biochemistry,  molecular biology, chemistry, mathematics, mathematics-physics, neuroscience, or physics. The SUMMIT STEM  program provides holistic support to strengthen STEM self-efficacy and identity, exposes participants to diverse STEM careers, and creates a supportive environment for students to develop leadership and career skills in STEM.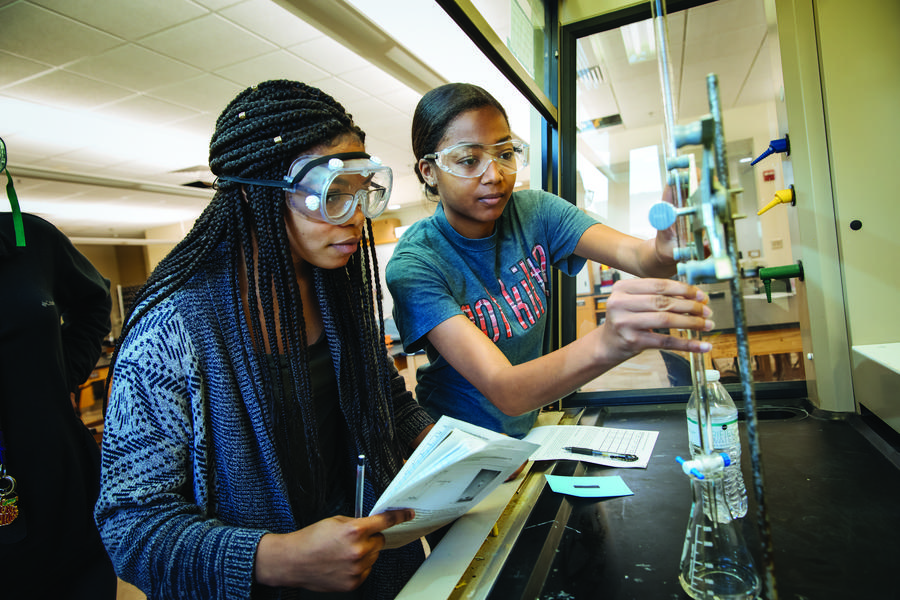 Build A Community
Before you begin your first semester at Agnes Scott, as a SUMMIT STEM scholar you will participate in Base Camp, a STEM-focused pre-orientation program. The 3-day program provides scholars with the academic and social foundation as STEM majors. Base Camp also provides an environment for the SUMMIT STEM cohort to bond and build community as you engage in team-building exercises with STEM faculty, individual and group advising sessions, and take a field trip to the CDC, Atlanta Zoo, Georgia Tech or Rollins School of Public Health at Emory University.
After orientation, every scholar will join approximately 30 other STEM students in the GEMS Living-Learning Community (GEMS LLC) as first-year students. The GEMS LLC will provide you with an opportunity to integrate their program experiences – from career development workshops to supplemental instruction and research training– in a nurturing and supportive environment that provides you with the necessary tools to thrive. After your first year, you can continue to live in the GEMS LC through your senior year. 
Academic Support 
In the summer before your first-year, SUMMIT STEM scholars will be assigned a dedicated faculty major advisor from the STEM field. This advisor will help guide you throughout your entire four years at Agnes Scott. In addition to a faculty advisor, you will be paired with a senior STEM peer in your first and second year.
Participants in the SUMMIT STEM program will also have access to The Resource Center for Math and Science (RCMS) which offers peer-led supplemental instruction for first and second-year students taking introductory courses in calculus, biology, chemistry, organic chemistry and linear algebra.
Professional Development 
At the beginning of the sophomore year, the faculty major advisor will assist in the selection and recruitment of a scientific professional in the Atlanta-area to join each SUMMIT STEM scholars' advising team as a career mentor. The career mentor will provide guidance about opportunities for the scholar's individual discipline area and overall STEM career. 
In the spring of your sophomore year, you will participate in the Sophomore Class Atlanta Leadership Experience (SCALE). SCALE is an immersion experience where students participate in a one-week shadowing or internship experience at organizations and corporations throughout the Atlanta area. SUMMIT STEM scholars, will engage in STEM-specific shadowing experiences to help reinforce your leadership skills and professional knowledge. 
In addition to the career mentor, by the third year, every SUMMIT STEM scholar will be provided a dedicated career coach that will help you find and participate in research and internship opportunities. These internships will enable you to gain real-world experience and help you prepare for your post-graduate careers. Both the career mentor and the career coach will continue to advise each scholar for the remainder of their undergraduate career and work with the scholar on their professional plan to graduate school or the STEM workforce.