Upcoming Events
All Music Department concerts and events are free and open to the public.  No ticket necessary.

October 2014
Intercollegiate Women's Choir Festival
Tuesday, October 21, 2014 at 8:00pm
Bailey Performance Center at Kennesaw State University
The women's choirs of Agnes Scott College, Kennesaw State University, University of Georgia, and Georgia Tech will perform. Each choir will perform a small set of their pieces, and the evening will end with two mass-choir pieces featuring all 4 ensembles.

Faculty Recital: Francisca Maxwell, soprano & David D'Ambrosio, piano "Magic, Mystery and Mysticism"
Sunday, October 26, 2014 at 4:00pm
Maclean Auditorium, Presser Hall
The program will include vocal works by Hugo Wolf, Mikhail Glinka, Franz Schubert, Gabriel Faure, and Samuel Barber's "Hermit Songs."  In addition, Ms. Maxwell will be joined by flutist Catherine Bull for a trio of pieces by Maurice Emmanuel. 

Music Department Recital Hour
Tuesday, October 28, 2014 at 1:00pm
Maclean Auditorium, Presser Hall
Young People's Concert at Clayton State University
This concert is SOLD OUT, but you can still join the waitlist for tickets available day-of-performance.
Tuesday, October 29, 2014 at 11:15am
Spivey Hall, Clayton State University
November 2014
Kirk Concert & Master Class Series presents a master class with the Jade String Trio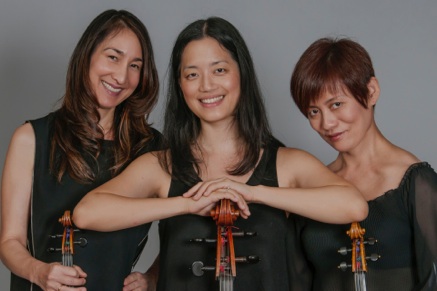 Tuesday, November 4, 2014 at 1:00pm
Maclean Auditorium, Presser Hall
Kirk Concert & Master Class Series presents the Jade String Trio
Tuesday, November 4, 2014 at 7:30pm
Maclean Auditorium, Presser Hall
Program Highlights: String Trio Op. 9, No. 1 in G Major by Ludwig van Beethoven
Madrigals for Violin and Viola by Bohuslav Martinu
Jasmine Swale for the Jade String Trio by Beth Anderson
Butterfly Lovers for Violin Concerto by Chen Gong/He Zhanhao
Shanbei Celebration (folk song) arr. by Ah Kejian/Zheng Deren

Music Department Recital Hour
Tuesday, November 18, 2014 at 1:00pm
Maclean Auditorium, Presser Hall
Chamber Ensemble Concert
Wednesday, November 19, 2014 at 8:00pm
Maclean Auditorium, Presser Hall
Collegiate Chorale & Sotto Voce Concert
Thursday, November 20, 2014 at 6:00pm
Maclean Auditorium, Presser Hall
ASC Community Orchestra Concert
Sunday, November 23, 2014 at 3:00pm
Gaines Chapel, Presser Hall
December 2014
Music Department Recital Hour
Tuesday, December 2, 2014 at 1:00pm
Maclean Auditorium, Presser Hall
Joyful Noise Gospel Choir Concert
Wednesday, December 3, 2014 at 8:00pm
Gaines Chapel, Presser Hall
Music Department Recital Hour
Thursday, December 4, 2014 at 1:00pm
Maclean Auditorium, Presser Hall
Music Department Recital Hour
Friday, December 5, 2014 at 3:30pm
Maclean Auditorium, Presser Hall
Music Department Recital Hour
Monday, December 8, 2014 at 3:30pm
Maclean Auditorium, Presser Hall
Jazz Ensemble & World Percussion Ensemble Concert
Monday, December 8, 2014 at 8:00pm
Luchsinger Lounge, Alston Campus Center